The latest on Windows 7 and Windows Server 2008 R2
While most Windows shops will take their customary cautious approach to migrating enterprise servers and desktops, Windows managers will want to keep an eye on Windows 7 and Windows Server 2008 R2 developments. With news and advice on these emerging products, this Windows infrastructure and architecture digest should help administrators do just that.
Microsoft released Windows 7 and Windows Server 2008 R2 to manufacturing last month so naturally there will be extra noise in the market regarding these two major software products. The buzzing will continue as we inch closer to their October 22 general release.

Download this free guide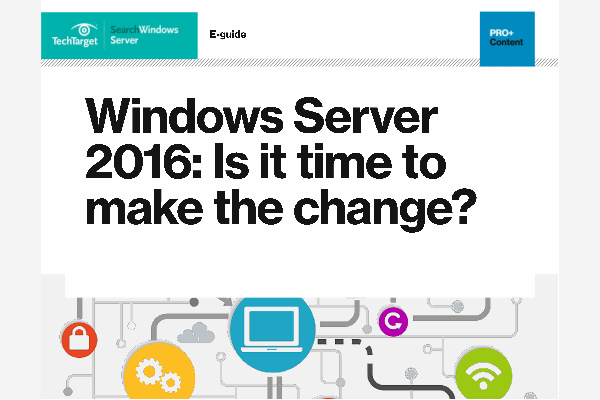 Download: Buyer's Guide to Windows Server 2016 in 2017
You may be due for an upgrade! Check out our full Windows Server 2016 Buyer's Guide to see if a switch to the new server would be the best move for your organization.
By submitting your personal information, you agree that TechTarget and its partners may contact you regarding relevant content, products and special offers.
You also agree that your personal information may be transferred and processed in the United States, and that you have read and agree to the Terms of Use and the Privacy Policy.
While most Windows shops will take their normal, cautious approach to migrating their enterprise servers and desktops, all Windows managers will conduct due diligence and keep a close eye on all the latest Windows 7 and R2 developments. This week's digest should help administrators do just that.
Windows 7

It might seem logical that enterprises on Vista would take longer to upgrade to Windows 7 than enterprises still on XP. But what is expected to happen is that Vista shops will move up sooner, as those enterprises have resolved some earlier problems with Vista, and are therefore more prepared to migrate to Windows 7.
Enterprises who run Windows XP seem more reluctant to make the move. Even though Windows 7 includes XP Mode, XP users may postpone upgrades due to hardware costs and many unfamiliar features. Regardless of whether they have legitimate beefs, organizations clinging to the 8-year-old XP will be doing so at their own risk. While there has been no word on when Microsoft partners will abandon XP, the day will come, and there may be very little warning.
Whether you are running XP or Vista, are planning to upgrade or aren't sure, you've probably got a lot of questions. Windows expert and Microsoft MVP Brien Posey took the time to answer some of your upgrade questions, like whether you can upgrade directly from XP to Windows 7 and if so, what your best plan of action is.
Windows Server 2008 R2

Despite its name, Windows Server 2008 R2 is an entirely different OS from Windows Server 2008. The enterprise version of R2 adds some important features.
One of the less glamorous yet very important features of R2 is with Group Policy. R2 has a set of PowerShell cmdlets that can be used via the Group Policy Management Console (GPMC), and will allow you to automate many of the same tasks that you usually perform in the graphical user interface (GUI).
With R2, Microsoft has also addressed certain scalability problems in DFS that have remained constant through the years, including issues with file replication.
R2's Remote Desktop Services also offers new features, such as Fair Share CPU Scheduling and PowerShell management. One of the more compelling new features in R2's RDS is Client-side rendering.
The features come with some caveats. One such stipulation is the end of support for Exchange Server 2007, meaning when moving to R2, IT shops will have to upgrade to Exchange Server 2010 as well.
Dig Deeper on Enterprise infrastructure management