Q
Problem solve
Get help with specific problems with your technologies, process and projects.
Building an Exchange resource forest
How to use a resource forest in your Exchange implementation.
I am trying to move Exchange 2000 client mailboxes on an Active Directory onto an untrusted Active Directory and move them onto an Exchange 2003 server on the other Active Directory. Is there an "easy" way to do this, and can you give me instructions on how to accomplish this?
VIEW MEMBER FEEDBACK TO THIS ASK THE EXPERT Q&A.
This sounds like a tough way to explain that you are interested in using a resource forest in your Exchange implementation. Here is a stick figure diagram to explain how you could do this, and create accounts in the resource forest with the associated external account of the primary forest.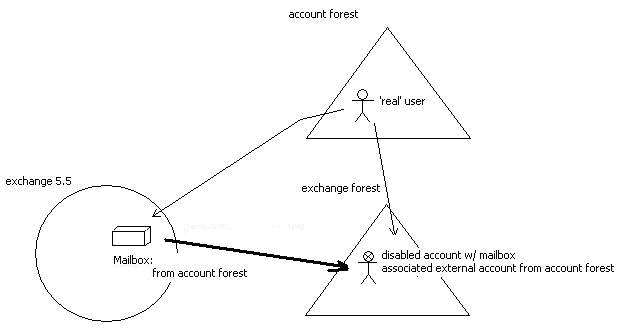 That scenario isn't completely untrusted because you need to assign the account forest "real users" to the Microsoft Exchange forest mailboxes. This is used in the outsourcing and ASP model where you have an Exchange forest housing the application, and another forest with the account information.
MEMBER FEEDBACK TO THIS ASK THE EXPERT Q&A:
To go further on this, how do you move the mailboxes? Is ExMerge the only option? I believe the Exchange Server tools that have "move mailbox" functionality (Exchange System Manager and Active Directory Users and Computers snap-ins) only allow for movement within one Global Address List (GAL). Is that correct?
—Don H.
******************************************
Microsoft provides more information on Exchange migration tools -- what they can do and what they can't do -- in this article.
—Peter terSteeg, Deployment and Migration Expert
Do you have comments on this Ask the Expert Q&A? Let us know.
Related information from the TechTarget Windows Network:
Learning Guide: Exchange Server migration (SearchExchange.com)
Reference Center: Active Directory tips and resources (SearchExchange.com)
Learning Guide: Planning and designing your Active Directory (SearchWinIT.com)
Dig Deeper on Exchange Server setup and troubleshooting
If recently created mailboxes are not displayed in the GAL after a migration to Exchange 2007, Active Directory (AD) has yet to replicate the ... Continue Reading
If you are migrating mailboxes across domains after an upgrade to Exchange Server 2007, you will need to update the Exchange Management Console. Continue Reading
Items deleted before an Exchange Server migration will not carry over to the new server, even if a Deleted Items Retention period is set. Find out ... Continue Reading
Have a question for an expert?
Please add a title for your question
Get answers from a TechTarget expert on whatever's puzzling you.