Q
Problem solve
Get help with specific problems with your technologies, process and projects.
Eliminate username and password prompt when opening Microsoft Outlook
Learn how to configure Exchange Server to avoid receiving username and password prompts each time Microsoft Outlook is opened.
I have a small domain running Windows 2000 Server and Exchange 2000 Server. Each time a user clicks to open Microsoft Outlook he is prompted for his username and password. Is this a setting in Exchange Server that I need to correct?
VIEW MEMBER FEEDBACK TO THIS ASK THE EXPERT Q&A.
First, let's verify that you are trying to access the mailbox that is associated with the user account that is currently logged onto Windows. If that is the case, then go into the Mail control panel applet, and drill down through the properties of your Microsoft Outlook profile. Locate the Security tab of your Exchange Server settings, and verify that Always Prompt for User Name or Password is not checked.
If this still does not solve the problem, create a new profile for the same user on a "clean" workstation to determine if the problem is user or computer related.
---
MEMBER FEEDBACK TO THIS ASK THE EXPERT Q&A:
I have run Exchange Server 2003 with RPC over HTTPS for a few years now. Whenever people change their password and then log into Microsoft Outlook, they get prompted the next time Outlook uses RPC over HTTPS. Is this supposed to happen or should it pick up the username and password through their login?
—Ray B.
******************************************
I would need to know a bit more about the network setup in order to give a proper answer. How are they changing their password? Are they doing that from a workstation that is physically connected to the LAN? Or are they using the Change Password feature in Outlook Web Access? And should I assume that they are using RPC over HTTPS from a "remote" computer, meaning one that is not on their LAN?
—Brad Dinerman, Clients and Mobility Expert
******************************************
The instructions were a bit vague. In Exchange 2000, there is no "Security" tab in the Microsoft Outlook profile. There is a prompt for profile, but not username. There is also a "work offline" option within Outlook that does not prompt for username or password either.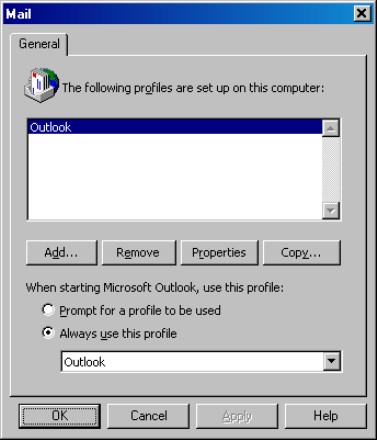 Please advise.
—Dennis S.
******************************************
First, the security tab I described is a feature of Microsoft Outlook, not Exchange Server. Second, I would want to know what version of Microsoft Outlook you are using.
Assuming that you're using Microsoft Outlook 2000 or later, then the setting you want is under the Advanced tab, per the screen shot below. You should select "Password Authentication."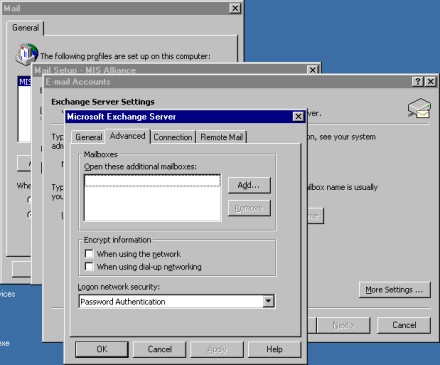 —Brad Dinerman, Clients and Mobility Expert
---
Do you have comments on this Ask the Expert Q&A? Let us know.
Related information from SearchExchange.com:
Dig Deeper on Outlook management
Find out how you can avoid DNS issues related to a Exchange 2003 server only collecting email from specific POP3 domains. Continue Reading
Are you having trouble with duplicate appointments in your Microsoft Outlook 2003 calendar? Learn what may cause this to happen. Continue Reading
Learn the best way to configure the default recipient policy in an Exchange 2003 test environment. Continue Reading
Have a question for an expert?
Please add a title for your question
Get answers from a TechTarget expert on whatever's puzzling you.