Problem solve
Get help with specific problems with your technologies, process and projects.
Forwarding email from Exchange Server to an external email address
Get step-by-step instructions for forwarding all Exchange Server email to an external email address.
How can I forward email from my Exchange Server to an external email address?
Continue Reading This Article
Enjoy this article as well as all of our content, including E-Guides, news, tips and more.
I am going to assume that you want to forward only your personal, inbound email to an external address, and that you're not looking to do a mass-forwarding of ALL messages to a single outside address.
If that is the case, then here is what you can do:
Open Active Directory Users and Computers (ADUC) and create a contact that has an SMTP address of your external address (e.g., [email protected]).
Go into the Properties of your user account in ADUC, select the Exchange General tab and click the Delivery Options button.
In the Forwarding Address section, select the Forward To option, click the Modify button and type the name of the contact that you just created in the first step. (Note that a full cycle of the Recipient Update Service (RUS) must occur before this contact will appear in the list. You might need to wait 15 minutes for this to happen unless you force it manually.)
Check the Deliver Messages to Both Forwarding Address and Mailbox option if you want to keep a copy of forwarded messages in your Inbox.
Once you complete the preceding steps, you may want to hide the contact from the Exchange Server/Microsoft Outlook address list so that other users on your network cannot see your personal address information. Configure this from the Exchange Advanced tab of your account property sheet.
MEMBER FEEDBACK TO THIS ASK THE EXPERT Q&A:
I have done what is recommended to forward email in Exchange Server to an external email address. However, I'm faced with a problem. All calendar invitations are not forwarded correctly; they are being forwarded as normal email and not as calendar invitations. How can I resolve this problem?
Robert A.
******************************************
First, I would need to know what version of Exchange Server you are running, as well as what version of Microsoft Outlook you are using at the external address.
Second, you should check the Exchange Advanced tab of the contact that you created, and in there, enable the checkbox that says Use MAPI Rich Text Format. You'll need to wait about 15 or so minutes for the change to take effect unless you want to manually force the Recipient Update Service. After that, conduct another test of the forwarding and then let us know the results.
Brad Dinerman, Clients and Mobility expert
******************************************
Is it possible to set up the forwarding to an external account directly on the user record (i.e., not setting up the contact)?
Peter H.
******************************************
No, it's not possible to configure the external address directly on the user account. Only the contact can support the external address.
Brad Dinerman, Clients and Mobility expert
******************************************
I followed your instructions for forwarding to an external email address in Exchange. Unfortunately, nothing happens. Despite the fact that I configured the user account to both forward and deliver internally, it is being delivered internally, but not forwarded. I am using Exchange 2000 and Outlook 2007. Do you know what the problem could be?
Eddie
******************************************
It's possible that you have not enabled the Allow Automatic Forwarding option. You can find this in the Exchange Administrator -> Global Settings -> Internet Message Formats -> Default -> Properties, as indicated in the screenshot.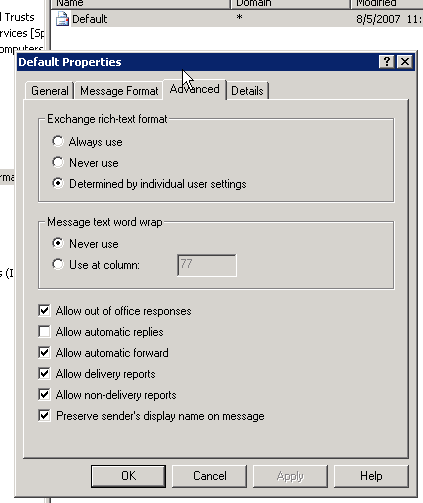 Brad Dinerman, Clients and Mobility expert
******************************************
Using the facility to forward email messages in Exchange Server 2003 is not working if senders are outside our company, but it works fine if we send internal messages to the specific contact. Is there another configuration that needs to be done in order for the external messages to be forwarded to outside addresses also?
Carlos Z.
******************************************
It's possible that the mail administrator had disabled the ability to auto-forward messages from the Exchange organization. The admin can check this in Exchange System Manager. Drill-down through Global Settings > Message Delivery and then double-click on Default in the right-pane. Select the Advanced tab in the dialog that appears and verify that Allow Automatic Forward is enabled. See the screen shot below for a sample.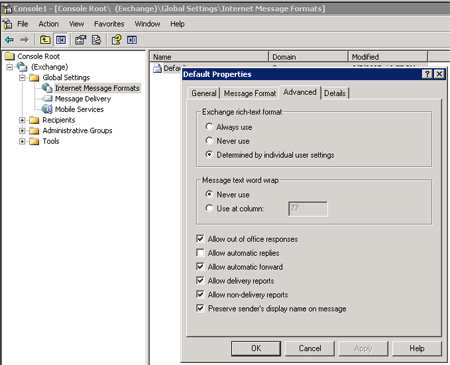 Brad Dinerman, Clients and Mobility expert
******************************************
The advice outlined in this article does not work for external email addresses because Exchange Server cannot be used as a mail relay.
Ed F.
******************************************
Exchange Server does not need to be configured for external mail relay in order for this process to work. However, you may want to add the IP address of the Exchange Server itself to the list of permitted relay hosts. Having done that, as well as verifying that automatic forward is permitted by the Exchange administrator, restart the SMTP service and see if the problem is resolved.
Brad Dinerman, Clients and Mobility expert
Do you have comments on this Ask the Expert Q&A? Let us know.
Related information on forwarding email in Exchange:
Dig Deeper on Exchange Server setup and troubleshooting
Learn if you can send out polling questions through Exchange Server to recipients who don't use Microsoft Outlook. Continue Reading
Learn how to configure Exchange System Manager (ESM) to restrict certain users from accessing Outlook Web Access (OWA), without limiting users' LAN ... Continue Reading
If Microsoft Outlook and Outlook Web Access (OWA) display different out-of-office (OOF) messages, Cached Exchange Mode may be to blame. Continue Reading