Q
Problem solve
Get help with specific problems with your technologies, process and projects.
How much bandwidth is required to send email in Exchange 2003?
Get tips on how to calculate how much bandwidth your Exchange 2003 organization requires and suggestions for replicating data between Exchange servers at separate locations.
We are planning to implement Microsoft Exchange Server 2003 in our organization. I would like to know how much bandwidth will be required. We will also be using personal digital assistants (PDAs) to connect, and we'll need to get email to those devices. There will be around 300 mailboxes, including 100 mobile device users.
Also, is it possible for the new Exchange 2003 server to replicate with our other Exchange 2003 server (which resides in a remote location) through the VPN on an active/active cluster?
There is no magic guess on how much bandwidth will be required to send email in an Exchange 2003 environment. The amount of bandwidth completely depends on how much traffic and how many user profiles you have within your Exchange 2003 organization.
At times, I've seen architectural firms using Exchange Server to email 300 MB design documents. I've also seen Exchange used for average email traffic that's less than 10 KB. Microsoft can help you calculate some rough estimates based on their predefined user profiles:

To answer your second question, Exchange Server 2007 is a platform you may want to consider looking at. I know more enhancements are coming with
Exchange 2007 Service Pack 1
(SP1), but here are some of the features it currently has: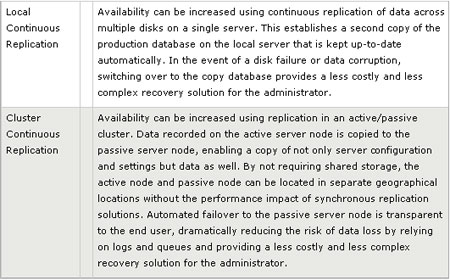 Both Local Continuous Replication (LCR) and Cluster Continuous Replication (CCR) may provide the type of resiliency you are looking for.
Do you have comments on this Ask the Expert Q&A? Let us know.
Related information from SearchExchange.com:
Dig Deeper on Exchange Server setup and troubleshooting
If recently created mailboxes are not displayed in the GAL after a migration to Exchange 2007, Active Directory (AD) has yet to replicate the ... Continue Reading
If you are migrating mailboxes across domains after an upgrade to Exchange Server 2007, you will need to update the Exchange Management Console. Continue Reading
Items deleted before an Exchange Server migration will not carry over to the new server, even if a Deleted Items Retention period is set. Find out ... Continue Reading
Have a question for an expert?
Please add a title for your question
Get answers from a TechTarget expert on whatever's puzzling you.