Q
Manage
Learn to apply best practices and optimize your operations.
How to create desktop shortcuts for Microsoft Outlook 2003 subfolders
SearchExchange.com expert Brad Dinerman explains how to create desktop shortcuts for Microsoft Outlook 2003 subfolders.
Is there a way to create desktop shortcuts for Outlook 2003 subfolders such as Contacts and Calendar? I was told by a new employee that his former workplace had this feature, but I think it was something from a third-party program enabling him to synchronize his cell phone to his Microsoft Outlook account. I know the Microsoft Outlook icon can be put on the desktop, but I have not been able to do so with the subfolders. Is this possible?
VIEW MEMBER FEEDBACK TO THIS ASK THE EXPERT Q&A.
Yes, this is definitely possible. Right-click the folder (such as Contacts or Calendar) and drag it to the desktop. When you release the mouse on the desktop, you will receive a small pop-up window asking if you want to Copy, Move or Create an Active Desktop Item. If you select Copy, a shortcut will be created on the desktop. You can verify its functionality by closing Microsoft Outlook and then double-clicking the shortcut; Microsoft Outlook should open on the selected folder.
MEMBER FEEDBACK TO THIS ASK THE EXPERT Q&A:
I am receiving an error message that says "Internet Explorer does not support the synchronization of this URL." Do you have any idea why this is happening or how I can get the shortcuts on the desktop?
I'm using IE7 and Firefox. I'm also running a trial of Microsoft Office 2007 along with Microsoft Office 2003 installed. Thanks.
—Phil H.
******************************************
The problem you describe should not be happening. I understand that you're using a mix of Microsoft Office 2003 and Office 2007. From what version of Microsoft Outlook are you trying to copy the shortcuts? Also, is this happening in stand-alone Outlook, or Exchange-connected Outlook?
—Brad Dinerman, Client Administration expert
******************************************
Is this true of calendars? I didn't think you could copy a calendar shortcut to your desktop. I believe a link needs to be created and I do not know how to create one.
We are trying to create a shortcut that will connect directly to an online 'public' calendar and not an individual item. We are running Windows XP SP2 and Microsoft Outlook 2003 SP2. Microsoft Outlook is connected to Exchange Server 2003.
—Andrew F.
******************************************
I just retested this using the same setup that you have and it works.
Here are the steps:
Right-click on the public folder calendar in the All Public Folders tree and hold down the mouse button.
Drag the item onto the desktop and release the mouse button.
Select the Copy Here option to create the shortcut.
This screen shot shows the result: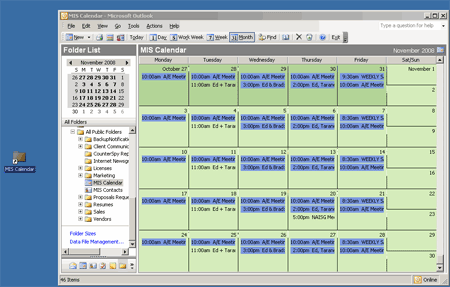 —Brad Dinerman, Client Administration expert
Do you have comments on this Ask the Expert Q&A? Let us know.
Related information from SearchExchange.com:
Dig Deeper on Outlook management
Find out how you can avoid DNS issues related to a Exchange 2003 server only collecting email from specific POP3 domains. Continue Reading
Are you having trouble with duplicate appointments in your Microsoft Outlook 2003 calendar? Learn what may cause this to happen. Continue Reading
Learn the best way to configure the default recipient policy in an Exchange 2003 test environment. Continue Reading
Have a question for an expert?
Please add a title for your question
Get answers from a TechTarget expert on whatever's puzzling you.