chris - Fotolia
Q
Manage
Learn to apply best practices and optimize your operations.
How to export an Outlook calendar and contacts
Transferring Outlook data such as calendar items to an Excel compatible file only takes a few clicks, but there are subtle differences between Windows and macOS platforms.
If you need to export an Outlook calendar or other information from the Microsoft Office application, there are some key differences between the supported versions.
Microsoft currently supports four versions of Outlook for Windows and some have different ways to export Outlook data, such as contacts and calendar items. The Outlook export process has not changed drastically from Outlook 2013 onward compared to earlier versions of Outlook. But the newer versions are more full featured with the ability to export previously unobtainable items, such as meeting attendees.
Say you want to copy your contacts for import into a different email platform or maybe you need to manipulate data in your calendar in an Excel spreadsheet as part of a monthly report -- there's a relatively easy way to do it in Outlook. Check the instructions below to export your calendar items or contacts in CSV file format.
Export an Outlook calendar on Windows
Microsoft currently supports four versions of Outlook on Windows: Outlook 2010, Outlook 2013, Outlook 2016 and Outlook 2019. The basic export functionality is very similar across these applications, but in Outlook 2013 Microsoft significantly upgraded the look and enhanced the functionality of its email client when compared to Office 2010. Versions of Outlook after 2013 have little to no significant changes with the export process.
In this tutorial, we'll use screenshots from Outlook 2016 to transfer a calendar to a CSV file. The steps to export contacts from Outlook is nearly identical but with one minor change we will highlight.
To start, click File on the menu bar, which presents the window below: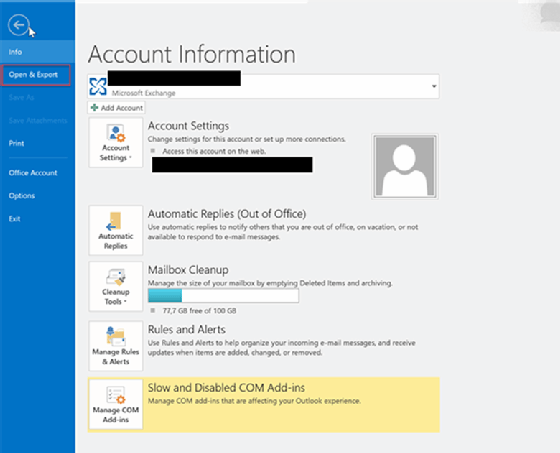 Next, click the Open & Export option to show another set of menu options on the right side. Click on Import/Export.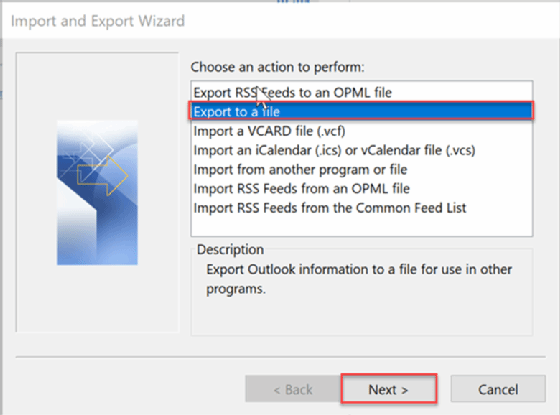 A new window will appear. Select Export to a file as shown above and then click Next.
On the next window, click Comma Separated Values and then click Next.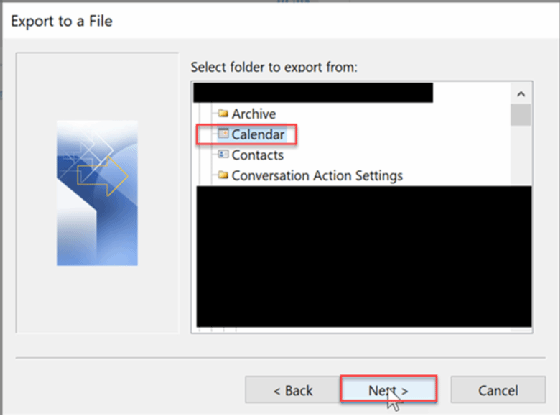 On the next screen, click on Calendar as shown above and then click Next. If you want to export contacts, then select Contacts from the Outlook window.
In the next window, click the browse button to choose the location for the exported file. Click Next to continue.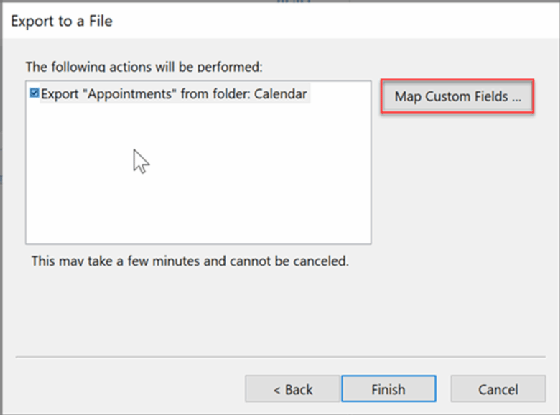 Click on the button Map Custom Fields to select the information to export. This will open the Map Custom Fields window.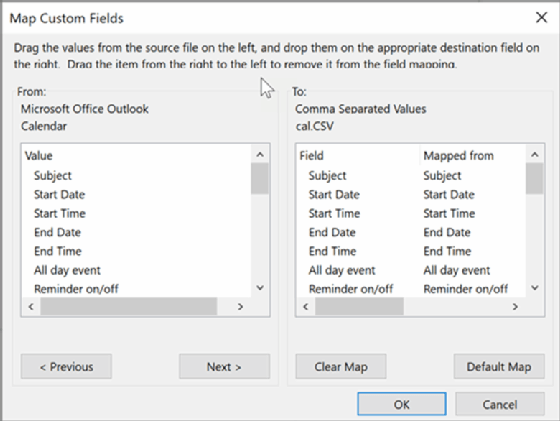 The default output selects all available values in the calendar. To change this, click the Clear Map button on the right side to clear all fields and choose the values you want by dragging them from the left window to the right window. Once done, click the OK button to return to the previous screen. Click Finish.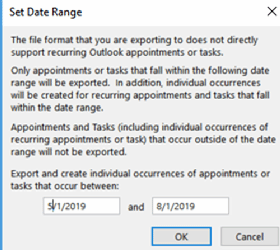 Before the export starts, you can select the date range. Outlook will offer a default range or you can adjust this and click OK.
After the export progress window closes, you can open the CSV file in Excel or another spreadsheet program.
Outlook for Mac calendar export process
On Macintosh systems, Microsoft supports Outlook for Mac versions 2016 and 2019. Outlook for Mac differs from the Windows Outlook version in that it does not have an option to export to a CSV file. The only choice is to export to a PST or OLM file. According to Microsoft, it has received feature requests to export a spreadsheet-compatible file on macOS systems, but there are no immediate plans to develop the feature.
The steps to export a calendar from either supported version of Outlook for Mac are the same.

Click on the File menu item and select Export.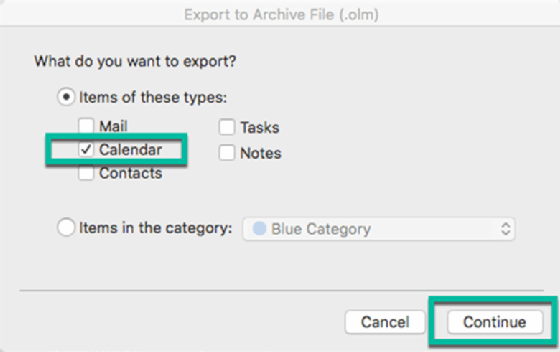 A window will open to export to an archive OLM file. Select the Calendar type and then click Continue. After giving a name for the OLM file, the file will export.
Due to the nature of the OLM file type, this export process might not be useful for purposes other than to archive the data. There are third-party applications that claim to convert the OLM file to other formats, such as CSV, which might be the only option to import the data into a spreadsheet unless Microsoft develops a more comprehensive export feature.
Dig Deeper on Exchange Server setup and troubleshooting
Exchange Server log files tend to chew up a lot of space, particularly on the later versions. Here's how to keep the mail flowing when a hard drive ... Continue Reading
When applying security updates or cumulative updates to Exchange Server, it's important to take your time and use maintenance mode to avoid ... Continue Reading
Microsoft changed its release model after Exchange 2010, which has caused some confusion for administrators who work on newer versions of the ... Continue Reading