Q
Problem solve
Get help with specific problems with your technologies, process and projects.
Local computer policy that applies to all except administrator
How can I set up a local computer policy in XP Pro that applies to all users except the administrator account? The computer is a laptop that is a member of a domain.
Local Group Policy Objects (GPO) apply to all users who sign onto the computer. With that said, I have a nasty little trick you can use. The file %SYSTEMROOT%\system32\GroupPolicy\User\Registry.pol contains local user policy. Change permissions on this file to deny access by the local Administrators group, as shown in the figure below. Do this only after configuring local policies. If you need to edit the policies later, simply take ownership of the file by clicking Advanced and then clicking the Owner tab.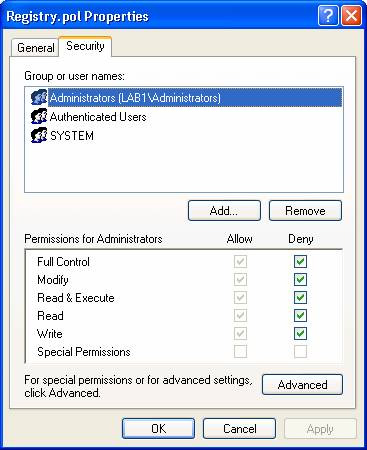 Dig Deeper on Windows client management
Have a question for an expert?
Please add a title for your question
Get answers from a TechTarget expert on whatever's puzzling you.