Q
Problem solve
Get help with specific problems with your technologies, process and projects.
Move mailboxes to Exchange 2007 after Windows upgrade
Follow these best practices when moving mailboxes from Exchange 2000 to Exchange 2007 after a Microsoft Windows upgrade.
We currently have a small network with two Windows 2000 servers that are domain controllers (DCs) and a Windows 2003 member server. One of the Windows 2000 servers is also running Exchange 2000. Windows is running in mixed mode, as is Exchange Server.
I would like to move to native mode on both of these, but I'm not sure what sequence to use -- Windows first, then Exchange Server? Is there anything I need to do first? There was never any Exchange 5.5 or lower servers on this network. We are planning an upgrade to Windows 2003, then a Move Mailbox install of Exchange 2007 in the near future.
I would definitely consider getting your hands on the
Exchange Server Best Practices Analyzer
(ExBPA) tool version 2.7 or later, which includes an Exchange 2007 readiness check for your organization. During the planning phase, I would identify if you utilize features in Exchange 2000 that are no longer supported in Exchange 2007. Those features include:
Microsoft Mobile Information Server
Exchange 2000 Instant Messaging Service
Exchange 2000 Chat Service
Exchange 2000 Conferencing Server
Key Management Service
cc:Mail Connector
Microsoft Mail (MS Mail) Connector
In Exchange 2003, the following features will require you to maintain an instance of Exchange 2003 in the organization:
GroupWise Connector
X.400 Connector
Connector for Lotus Notes
The process of moving or transitioning from Exchange 2000 to 2007 does not support an in-place upgrade. If you consider that Exchange 2000 was not 64-bit, the notion of an in-place upgrade not being an option becomes more obvious. That being said, there is a useful Microsoft TechNet article, Best practices for transitioning an Exchange organization, that goes through some best practices for transitioning to Exchange 2007. You will most likely use the Move-Mailbox cmdlet or the Move Mailbox Wizard.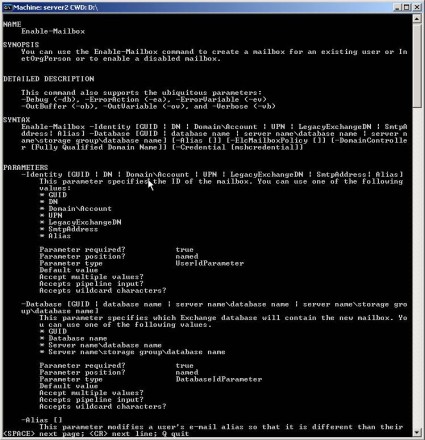 (Click on image for enlarged view.)
Do you have comments on this Ask the Expert Q&A? Let us know.
Related information from SearchExchange.com:
Expert Advice: Migrate Exchange 2000 to 2003 in the correct sequence
Expert Advice: Performing an Exchange 2000 to 2003 in-place upgrade
Reference Center: Exchange deployment and migration advice
Reference Center: Exchange Server 2007 tips and resources
Dig Deeper on Exchange Server setup and troubleshooting
If recently created mailboxes are not displayed in the GAL after a migration to Exchange 2007, Active Directory (AD) has yet to replicate the ... Continue Reading
If you are migrating mailboxes across domains after an upgrade to Exchange Server 2007, you will need to update the Exchange Management Console. Continue Reading
Discover the complications that could arise from installing Exchange Server 2003 and the domain controller on the same hardware. Continue Reading