Tracking OWA connections to client access servers
One Exchange admin wants to know the best way to track OWA connections to his client access servers. Our expert has the answer.
What is the best way to determine how many Outlook Web App (OWA) users are connecting to my Exchange client access...
Continue Reading This Article
Enjoy this article as well as all of our content, including E-Guides, news, tips and more.
servers?
Well, it depends on what you're looking for. If you're searching for a "real-time" view of currently connected OWA users, unfortunately you're out of luck. Once a user's session has been authenticated to the client access server (CAS), communication between the client and the server only occurs when a request is made, such as when a user opens a mail item or sends a message. In other words, there is no constant session between the client and server that can be queried using Exchange management tools.
However, if you're interested in understanding how many OWA connections your setup has seen, or if you want to check who is authenticating and from where, you can obtain this data from the IIS logs on your client access servers using Microsoft Log Parser with Log Parser Studio.
With Log Parser Studio, you can create a custom query to check on the number of OWA users per minute from the IIS logs on your CAS. The query should look similar to the following:
Select cs-username AS UserID,QUANTIZE(TO_TIMESTAMP(date, time), 60) AS Minute, cs(User-Agent) AS Application from '[LOGFILEPATH]' WHERE cs-uri-stem LIKE '%OWA%'

The above command will produce an output similar to Figure 1: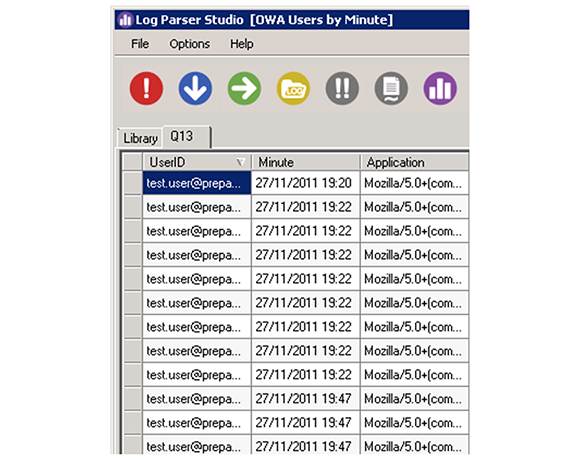 Figure 1. Log Parser Studio can retrieve OWA user connections down to the minute.
About the author
Andy Grogan is an Exchange MVP based in the U.K. He has worked in the IT industry for the last 14 years -- primarily with Microsoft, HP and IBM technologies. His main passion is Exchange Server, but he also specializes in Active Directory, SQL Server and storage solutions. Grogan currently works for a large council in West London as the networks and operations manager supporting 6,000 customers on more than 240 sites. Visit Andy's website at www.telnetport25.com/.
Dig Deeper on Outlook management
A coexistence period is an important part of any Exchange Server migration -- but why? Our expert explains. Continue Reading
Why is IMAP disabled in Exchange Server? When does it make sense to use it? Get the answers to those questions and more in this expert response. Continue Reading
An admin wants to know what his options are when it comes to checking Exchange 2010 server health. Our expert offers two suggestions. Continue Reading