 BACKGROUND IMAGE: iSTOCK/GETTY IMAGES
Q
Problem solve
Get help with specific problems with your technologies, process and projects.
What to do if you suspect an Office 365 outage
An Office 365 outage may be widespread or unique to your deployment. Discover how to find out, as well as the best ways to prepare your organization.
What should I do if I suspect an Office 365 outage? There's the obvious option to look online and see if other users are experiencing the same problem, but are there any other options?
There are steps you can take to prepare in advance for an Office 365 outage, but we can look at that later.
The first thing you should do in the event of a suspected outage is check Microsoft's Service Status page. It will help you determine if there is a wider-known problem.
Note: Make sure you have your Office 365 login information ready to access the page.
Microsoft provides detailed information on the current (and historic) availability of almost all aspects of the Office 365 platform (Figure 1).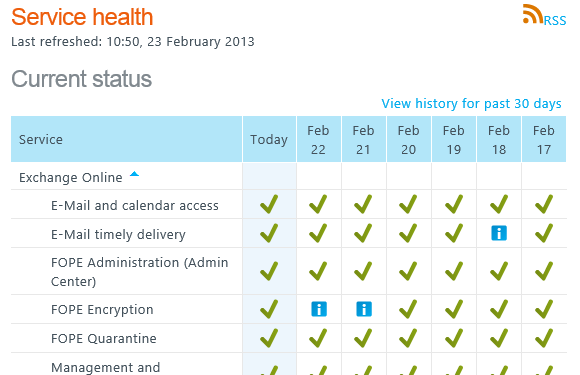 Figure 1. The Office 365 status page details various services.
Also, review the Planned Maintenance information page. It's normally emailed to the organization tenant admin, but if you can't find the message, click the aforementioned link.
Helpful tools
If you don't find any pertinent information on the Service Status or Planned Maintenance pages, your outage is probably unique to your deployment. Fortunately, Microsoft provides two tools that should help get to the root of the issue. The first tool is the Microsoft Online Services Diagnostics and Logging (MOSDAL) Support Toolkit.
MOSDAL should be used in conjunction with Microsoft support services, as it produces a significant amount of log information that's design to be passed to Microsoft support directly.
The second tool -- which is more of the online self-help variety -- is known as the Remote Connectivity Analyzer. Click the link and you'll see that it's pretty self-explanatory.
Preparing for an Office 365 outage
Earlier I alluded to the fact that you should always be prepared for an Office 365 outage. It's inevitable that no matter how much effort Microsoft puts into platform availability, there will be the rare occasion during which you will not be able to access it for one reason or another.
Much of this prep work depends on the size of your organization and the resources you have available. If you operate a large enterprise organization, you should definitely consider a hybrid Office 365 configuration, which is comprised of a mix of on-premises Exchange email and Office 365 mail. By doing so, you can leave important mailboxes on-premises, which will be helpful if Office 365 goes offline. I also suggest ensuring that you have various routes (at least two) into the cloud from your organization. Therefore, if you lose your primary link, you already have a backup.
If you operate a smaller organization and use Outlook, make sure to take advantage of Cached Exchange Mode. If you lose your connection to Office 365 for any reason, there is a local copy of your users' mail that you can access. Also, consider maintaining some form of reduced mail service from another vendor. Doing so ensures users can send mail on a temporary basis in the case of an outage.
About the author
Andy Grogan is a multiple recipient of the Microsoft Exchange MVP award (2009-2013). He is based in the U.K. and has worked in the IT industry for the last 16 years, primarily with Microsoft, HP and IBM technologies. Grogan's main passion is Exchange Server, but he also specializes in Active Directory, SQL Server, storage solutions, technology strategy and technical leadership in large-scale enterprises. Grogan currently works for a large county council in Surrey as its technical delivery manager and supports 15,000 customers on more than 240 sites. Visit Andy's website at www.telnetport25.com/.
Dig Deeper on Exchange Server setup and troubleshooting
Have a question for an expert?
Please add a title for your question
Get answers from a TechTarget expert on whatever's puzzling you.