What tools troubleshoot Autodiscover in Exchange Online?
An admin needs to ferret out an Autodiscover issue when the user's mailbox resides in the Exchange Online platform. What tools enable IT to correct the problem quickly?
Think a move to the cloud means you'll never have to troubleshoot connectivity issues again? In reality, these...
Continue Reading This Article
Enjoy this article as well as all of our content, including E-Guides, news, tips and more.
types of problems won't disappear and might be more difficult to solve because you only have control and visibility into part of the application.
Various tools diagnose and troubleshoot problems with Autodiscover, a web service in Microsoft Exchange Online that enables mailbox admins to configure user profile settings.
Use the Outlook troubleshooting utility
Outlook has a built-in Autodiscover troubleshooting tool. To access it, hold down Ctrl and right-click the Outlook icon in the system tray. This brings up a box labeled "Test Email AutoConfiguration," as shown in Figure 1.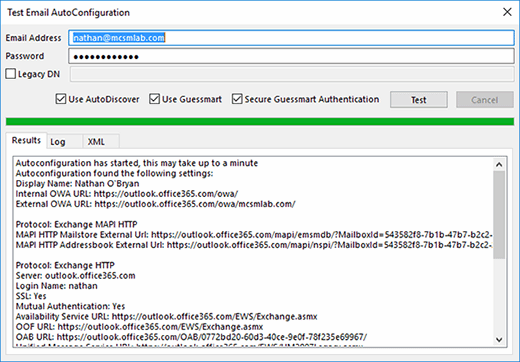 This test shows how the client receives -- or does not receive -- Autodiscover information from Office 365. This tool runs as part of Outlook on the user's PC: If the organization's network configuration causes the Autodiscover problem, this tool responds as if the Autodiscover endpoint is offline. To get the correct results, run the test several times from both inside and outside the organization's network.
Try the Remote Connectivity Analyzer
The Microsoft Remote Connectivity Analyzer is a web-based tool that identifies issues with Office 365 applications (Figure 2). Click on the Office 365 tab and select the Outlook Autodiscover test under Microsoft Office Outlook Connectivity Tests.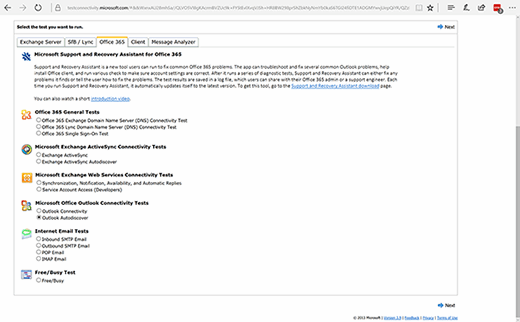 The Microsoft Remote Connectivity Analyzer runs tests external to the organization's network. If these tests pass, but the test run from the Outlook client does not, the issue resides with network access to Office 365.
Run the Support and Recovery Assistant
The last tool to try is the Microsoft Support and Recovery Assistant for Office 365 (Figure 3).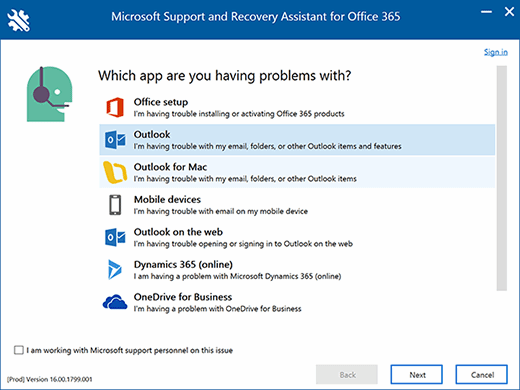 The Support and Recovery Assistant asks a series of questions to assist administrators with various Office 365 issues. Depending on the test, the Support and Recovery Assistant might connect to Office 365 from the PC or from test resources that Microsoft maintains, such as the Remote Connectivity Analyzer.
If the Autodiscover issue remains unresolved, open a case with Microsoft Support.
Dig Deeper on Exchange Online administration and implementation