What's the difference between MX records and smart hosts?
A new Exchange administrator is confused as to the difference between MX records and smart hosts. Discover what each does and their role in email delivery.
Q: I recently took over my first Exchange Server email environment. I'm new to a number of concepts and have heard...
Continue Reading This Article
Enjoy this article as well as all of our content, including E-Guides, news, tips and more.
the terms "MX record" and "smart host" used almost interchangeably. Are they one-in-the-same or different?
A: To put it simply, no they are not the same thing. A mail exchange record (MX record) is a type of resource record within the domain name system (DNS). An MX record points to the records that represent the mail server(s). These servers are often referred to as "SMTP smart hosts," and are also known as message transfer agents (MTAs). Smart hosts are responsible for mail delivery to recipients in a given domain.
Each MX record is given a preference. It denotes which hosts should be used in order of preference. For example, let's assume you have a domain with two MX records: one has a preference of "10" and the other has a preference of "20." Each points to a different smart host/MTA.
The smart host with the preference of 10 will always deliver mail to recipients in that domain -- unless it is unavailable. Higher preference MX records are used as backups.
Note: This does not guarantee failover between MTA's.
Below is a simple overview of how MX records work in the context of an example domain.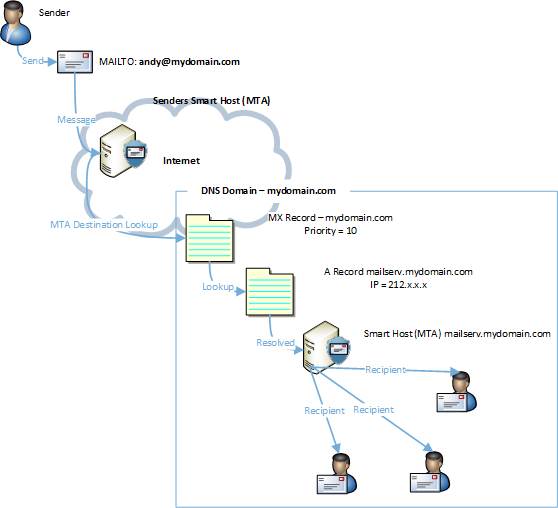 Figure 1. Here's an example of how MX records work.
Exchange Server smart hosts
You can configure Exchange Server smart hosts to solely route email internally within your Exchange Server organization via send connectors. That said, I don't advise doing so as there are only a few reasons why and where it makes sense.
To summarize, MX records tell source SMTP servers which mail hosts messages should be directed to for a given domain. A smart host is the SMTP server itself.
ABOUT THE EXPERT:
Andy Grogan, an Exchange MVP based in the U.K., has worked in the IT industry for the last 14 years -- primarily with Microsoft, HP and IBM technologies. His main passion is Exchange Server, but he also specializes in Active Directory, SQL Server and storage solutions. Andy is currently working for a large council in West London as the Networks and Operations Manager supporting 6,000 customers on more than 240 sites. Visit Andy's website at www.telnetport25.com/.
Dig Deeper on Exchange Server setup and troubleshooting
A coexistence period is an important part of any Exchange Server migration -- but why? Our expert explains. Continue Reading
Why is IMAP disabled in Exchange Server? When does it make sense to use it? Get the answers to those questions and more in this expert response. Continue Reading
An admin wants to know what his options are when it comes to checking Exchange 2010 server health. Our expert offers two suggestions. Continue Reading