News
Stay informed about the latest enterprise technology news and product updates.
Cloud talk dominates TechEd 2010 keynote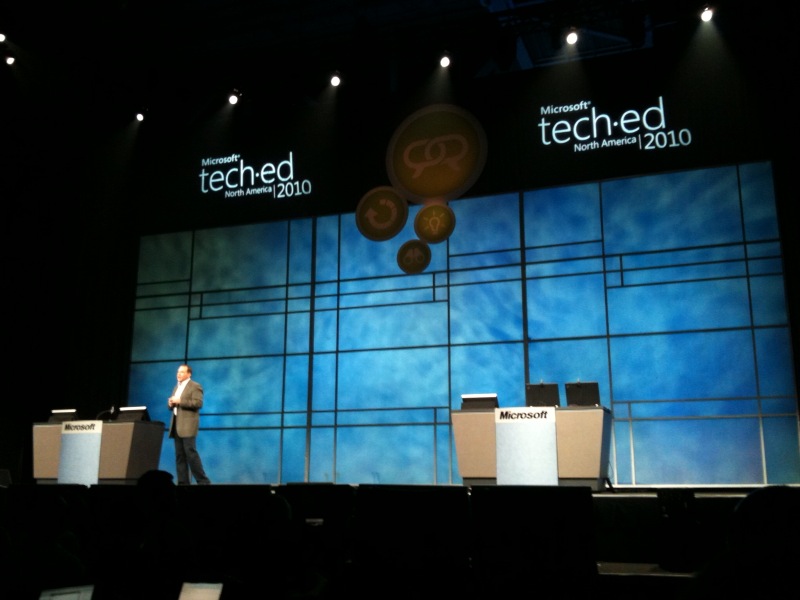 It's very warm and muggy here in New Orleans for Microsoft TechEd 2010, but it was cool, comfortable (and initially, loud) for the opening keynote with Microsoft president of server and tools business Bob Muglia and other company reps.
A lot of topics were covered during the 1 1/2-plus hour presentation, but as expected, the cloud dominated most of the conversation. The big theme was centered on how IT professionals can extend the tools and data they currently use on premise (Active Directory, System Center products, etc.) to cloud computing environments. Muglia once again stressed that Mirosoft is fully-committed to the cloud, and that while it will ultimately affect everyone, it's developers and IT professionals that are the focus right now.
Here are some other quick points from the keynote:
– The first service pack beta for Windows 7 and Windows Server 2008 R2 is set for July, with Dynamic Memory for Hyper-V and RemoteFX functionality for VDI. A rogue slide actually let the cat out of the bag earlier in the keynote, but SP1 news was expected anyway.
– Muglia stressed that "the server is the heart of the cloud" several times, with the key being "just-in-time provisioning and scaling of services on shared hardware." He talked about how the company's goal is to bring all the features of Windows Server and SQL Server to Azure.
– Windows Server AppFabric has been released to manufacturing and is now available.
– The Windows Phone 7 made an appearance. August Valdez, Microsoft senior marketing manager for mobile communications, took the crowd through a quick demo of some of the smartphone's features and capabilities, describing it as "basically a portable phone-version of the Office suite."
– Internet Explorer 9 was mentioned briefly. It will include new "graphics acceleration" features to take advantage of the latest standards and scenarios for Web browsing.
– Microsoft also announced the beta for Windows Intune, the company's technology designed to create a complete environment for updating and managing PCs, including inventory management and patching. Muglia described it as "a glimpse of the future."
– Distinguished engineer Amir Netz gave a very enthusiastic presentation on Microsoft PowerPivot where he talked about how business intelligence can be combined with — you guessed it — the cloud. He demonstrated how PowerPivot data can be made available to others through SharePoint 2010 and SQL Server Analysis Services, and provided an example of how said data can be integrated with Bing! maps.
Those are just a few quick points. More to come throughout the week…
For more information on Microsoft TechEd 2010, follow us on Twitter @WindowsTT.