News
Stay informed about the latest enterprise technology news and product updates.
MVP dishes on DirectAccess, VPN Reconnect in R2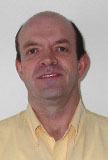 I spoke with Gary Olsen earlier to get his thoughts on some of the new features to be included with Windows Server 2008 R2. In addition to being a prolific TechTarget contributor, Gary is also a Microsoft MVP in Directory Services and a systems software engineer with Hewlett-Packard.
Check out the short podcast below to hear what Gary had to say about Microsoft's new DirectAccess feature. In this segment, he talks about the VPN challenges facing both users and IT folks, and how DirectAccess addresses those issues. He also provides details on VPN Reconnect and how it works.

I'll post more from my conversation with Gary later next week. In the meantime, be sure to check out his latest article on troubleshooting client logon delays in Windows.