News
Stay informed about the latest enterprise technology news and product updates.
New SQL Server tools drop in July
A couple of new DBA tools were released last week for SQL Server – Idera's SQL Comparison Toolset and SQL Backup Pro 6 from Red Gate Software. Both products are available for 14-day, fully-functional free trials.



As for the former, I spoke with Idera president and CEO Rick Pleczko and director of SQL products Heather Sullivan about the company's latest release. Comparison Toolset is a brand new product designed to simplify database synchronization.
Basically, whether you are designing new databases or working with production systems, it's important to make sure that all instances are the same. Pleczko told me that the tool takes the guesswork (and legwork) out of this by:
1. comparing the schema of multiple databases
2. highlighting the differences
3. generating the code to fix any errors and synchronize your DBs
Pleczko added that SQL Comparison Toolset can also be used to diagnose databases that aren't performing as well as you'd like, by highlighting all schema and data changes that have been made. The product is available at a price of $499 per user, though a special promotion through September has it knocked down to $295. As I mentioned before, you can test out a fully-functional free trial version for 14 days to see what you think.

Also released last week was SQL Server Backup Pro 6, which is the latest version of Red Gate Software's backup solution for SQL Server. The tool is designed to pretty much make your backups better in every way, allowing you to save space through backup compression and keep your data better protected.
New to version 6 is enhanced resiliency and "self-healing", which was added to speed up and simplify the disaster recovery process. It works like this: if an outage occurs while backup files are being copied, a record is kept of the affected files. That way, when the outage is fixed, Backup Pro 6 then picks up where it left off, reprocessing the affected transaction log files.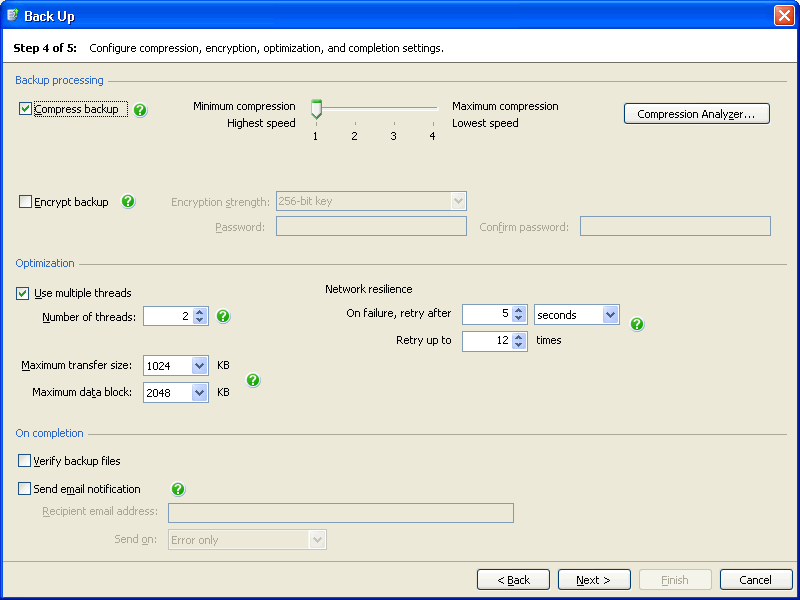 One tester described these resiliency enhancements as "the cherry on top" of SQL Server 2008's native backup capabilities.
Other new features provided with SQL Server Backup Pro 6 include user interface enhancements and a "kill existing connections" option, which prevents a restore from failing if users are connected to a database during the restore operation.