News
Stay informed about the latest enterprise technology news and product updates.
Rounding up Windows Server 2012 partner announcements
Since the general availability of Windows Server 2012, companies have revealed new products that will run with the support of this Windows Server version and its cloud capabilities.

Download this free guide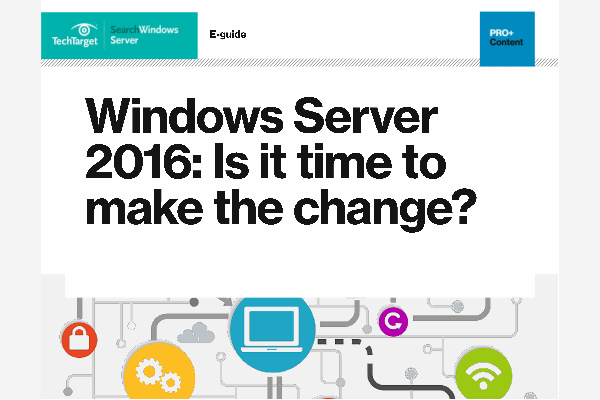 Download: Buyer's Guide to Windows Server 2016 in 2017
You may be due for an upgrade! Check out our full Windows Server 2016 Buyer's Guide to see if a switch to the new server would be the best move for your organization.
By submitting your personal information, you agree that TechTarget and its partners may contact you regarding relevant content, products and special offers.
You also agree that your personal information may be transferred and processed in the United States, and that you have read and agree to the Terms of Use and the Privacy Policy.
We compiled a list of company announcements and broke down what products will take advantage of the latest version of Windows Server.
Advanced Micro Devices
AMD announced that its processors would run on the latest version of Windows Server. AMD 4200 and 6200 processors will work with Windows Server 2012 and the Azure public cloud service. The company said these upgrades would support the virtualization enhancements of Windows Server 2012 and Hyper-V.
Brocade
Brocade said all of its product lines will support Windows Server 2012. The announcement highlighted its Ethernet and fibre channel products, which the company says will offer networking functionality in a cloud-based, virtualized data center based in the latest version of Windows Server.
CA Technologies
CA said its products would support Windows Server 2012 Dynamic Access Control. Dynamic Access Control lets users define central access policies at an organizational level, which allows users protect critical information. The company said that because of the integration of CA DataMinder Classification, the latest version of Windows Server allows users to have precise access control of data stored on the server.
Dell
Dell's PowerEdge 12th-generation servers will use Windows Server 2012. The high-density PowerEdge servers will enable increased scalability of clusters and Hyper-V. The servers will offer a combination of Microsoft Remote Desktop Services (RDS) and virtual desktop infrastructure (VDI), which provides users with an end-to-end desktop virtualization service. OpenManage Integration Suite for Systems Center 2012 will also provide agent-free monitoring.
EMC
EMC announced that it will offer storage platform and software support for Windows Server 2012. The VSPEX Private Cloud is validated by Microsoft Private Cloud Fast Track, which is designed to help administrators create and speed up the deployment of pre-configured private clouds. EMC's Global Services will assist customers with the assessment, strategy and development of private cloud infrastructures based on its technology and Windows Server 2012.
Emulex
Emulex detailed multiple products that will support Windows Server 2012 in its announcement. Its 16 GB Fibre Channel will offer increased data for highly virtualized, shared cloud environments compatible with Windows Server 2012. The integration of OneCommand Vision will use the Operations Manager of System Center 2012 to enhance availability and performance. The LightPulse Virtual adapter technology will also provide virtual port management in System Center 2012 Virtual Machine Manager.
Hitachi Data Systems
Three Hitachi products will support Windows Server 2012: virtual storage platform, unified storage and compute blade. Hitachi's products were built with the Microsoft Private Cloud Fast Track, which combined Hitachi computer and storage with Window Server's Hyper-V and System Center 2012 software. The company said the scalability will allow it to support thousands of VMs.
HP
HP announced that its ProLiant Gen8 servers will support Windows Server 2012. HP's virtualization tool, HP VirtualSystem, will help administrators create the necessary infrastructure needed for a successful private cloud, the company said. Other tools, including HP Insight Management and HP Converged Infrastructure, aim to simplify an enterprise's move to a private cloud.
Netapp
In its announcement, Netapp said its FAS and V-Series storage systems would fully support Windows Server 2012. The product that received the Windows Server 2012 logo certification, NetApp Snapshot backup and recovery, will work with Hyper-V. The company said the latest Windows Server version would offer solutions for availability, desktop virtualization, private cloud development and Web and application platform development.
NovaStor
NovaStor announced that its line of NovaBACKUP products would support Windows Server 2012. NovaBACK helps users launch file and disaster recovery protection. One of the products in the line will work with Windows Server 2012 to launch unlimited VMs based on Hyper-V.
Supermicro
Supermicro's said its server and storage platforms will support Windows Server 2012. In its announcement, the company said its Server Building Block product would work with the latest version of Windows Server to create scalable and easy to manage platforms based in the cloud.
What do you think of these announcements? Are you planning on using any of these products? Let us know in the comments, or on Twitter @SearchWinServ.