News
Stay informed about the latest enterprise technology news and product updates.
Troubleshooting tops Windows admins' most tedious tasks
For Windows admins, there's always something to fix. In a recent SearchWindowsServer.com survey, over 800 IT administrators and managers named troubleshooting as far and away their most time-consuming task.
Nearly half of respondents ranked it number one (47%), followed by provisioning and configuration (37%), performance tuning (37%), backup and recovery (32%) and migrations (29%).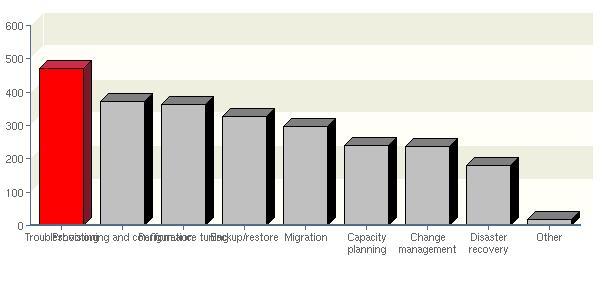 While these results are far from shocking, it doesn't make them any less true. Here is a small collection of really great troubleshooting tips for a variety of common issues that will hopefully help speed up the process.

Server hangs
A three-part series explaining the possible causes of a hanging server, with details on the best tools and techniques for resolving it.
Server crashes
Forget about a hung server; these have completely crashed. A major problem — but not one without a solution. This tip walks you through the process of getting your server back up and running quickly.
Printer crashes
Which printer or driver caused your spooler to crash? This article will guide you toward the answer.
Application crashes
An unexpected app crash can be a pain to troubleshoot. This tip identifies some free tools and how to use them.
Memory leaks
Leaks are usually caused by poorly written apps or drivers. Here you'll learn to identify the issue early and plug up the leaks before it's too late.
Service failures
Misbehaving services are common issues — with proven troubleshooting methods.
Poor client logon performance
This tip dissects the reasons why users might experience delays when logging into their domain accounts, and then suggests a number of possible debugging techniques.