Definition
Active Server Page (ASP)
ASP is also an abbreviation for application service provider.
An Active Server Page (ASP) is an HTML page that includes one or more scripts (small embedded programs) that are processed on a Microsoft Web server before the page is sent to the user. An ASP is somewhat similar to a server-side include or a common gateway interface (CGI) application in that all involve programs that run on the server, usually tailoring a page for the user. Typically, the script in the Web page at the server uses input received as the result of the user's request for the page to access data from a database and then builds or customizes the page on the fly before sending it to the requestor.
ASP is a feature of the Microsoft Internet Information Server (IIS), but, since the server-side script is just building a regular HTML page, it can be delivered to almost any browser. You can create an ASP file by including a script written in VBScript or JScript in an HTML file or by using ActiveX Data Objects (ADOs) program statements in the HTML file. You name the HTML file with the ".asp" file suffix. Microsoft recommends the use of the server-side ASP rather than a client-side script, where there is actually a choice, because the server-side script will result in an easily displayable HTML page. Client-side scripts (for example, with JavaScript) may not work as intended on older browsers.
Content Continues Below

Download this free guide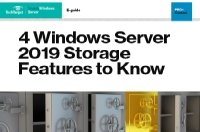 Download Now: 4 Windows Server 2019 Storage Features to Know
Microsoft includes storage features in Windows Server 2019 to ease migration and create highly available and scalable software-defined storage in data centers. Catch up on the latest features and their promises here.
For Web service applications, Microsoft provides a new version of ASP support called ASP.NET.
This was last updated in
July 2005
Continue Reading About Active Server Page (ASP)
Dig Deeper on Windows Server troubleshooting