Definition
Microsoft Project Honolulu
Microsoft Project Honolulu is a web-based Windows Server management app with an HTML5 interface that uses PowerShell for administrative tasks.
This free Microsoft tool collects a number of management applications into a front-end interface that runs from a newer web browser, such as Google Chrome and Microsoft Edge. Internet Explorer is not supported. From a single interface, administrators get an overview of server resource utilization and can perform a number of tasks, from registry edits to replicating virtual machines (VMs) to Azure. Project Honolulu also works with Windows Server VMs in other cloud platforms, such as Amazon Web Services (AWS).

Download this free guide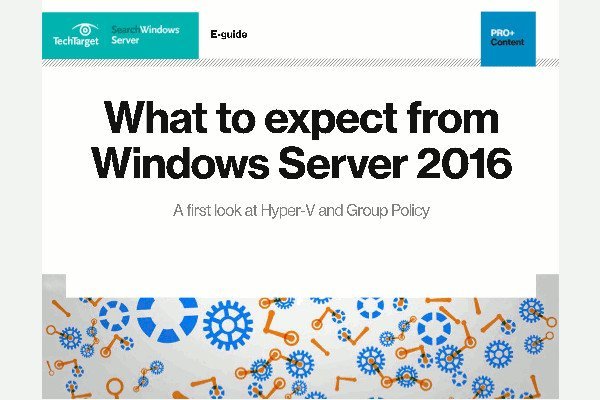 Download: A first-look at Hyper-V and Group Policy in Windows Server 2016
Access this complimentary guide to learn how Group Policy and Hyper-V features and capabilities have changed in Windows Server 2016, and discover the key networking, security, and storage benefits these changes offer.
By submitting your personal information, you agree that TechTarget and its partners may contact you regarding relevant content, products and special offers.
You also agree that your personal information may be transferred and processed in the United States, and that you have read and agree to the Terms of Use and the Privacy Policy.
Microsoft developed Project Honolulu after feedback from server administrators indicated other management tools, such as PowerShell, lacked features geared toward analysis, such as data visualization, or simple configuration adjustments.
Microsoft released a precursor to Project Honolulu in early 2016. The utility called Server Management Tools (SMT) was a remote server management tool based in Azure. Customers liked the functionality of SMT but found the need for Azure to be a hindrance. Microsoft retooled the application as an on-premises utility and unveiled Project Honolulu in September 2017 as technical preview. The company plans to make an official release sometime in 2018.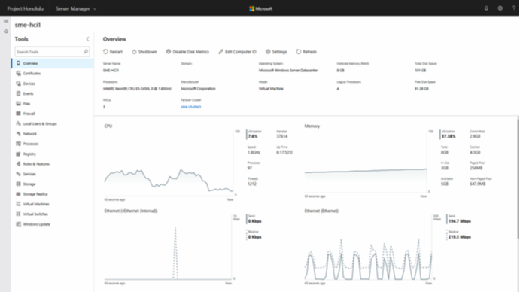 What Project Honolulu does
Project Honolulu is not a complete replacement for the traditional Microsoft Management Console (MMC), but it consolidates a number of administrative tools into a single web-based interface.
As of December 2017, Project Honolulu can be used to manage certificates, show resources and resource utilization, manage the firewall, set up local users and groups, check network settings, edit the registry, administer Windows services, enable or disable roles and features, manage virtual switches and Hyper-V VMs, process management, storage handling, Windows Update management, and run Event Viewer and File Explorer.
Supported OSes
Project Honolulu manages the Windows Server 2012, 2012 R2, 2016 and the Semi-Annual Channel Windows Server releases.
While extended support for Windows Server 2008 and 2008 R2 does not end until 2020, Project Honolulu cannot manage those systems because it requires PowerShell functionality that arrived after those releases.
To manage Windows Server 2012 and 2012 R2, Project Honolulu requires Windows Management Framework version 5.0 or higher on those systems.
Setup and requirements
Administrators can install Project Honolulu on Windows Server version 1709 and Windows Server 2016 in gateway mode, and Windows 10 in desktop mode.
In gateway mode, Project Honolulu runs as a network service which allows multiple users to manage Windows Server on non-Windows devices such as a Linux desktop or Apple iPhone.
Important features
The Server Manager section houses the many of the MMC applications administrators need to make adjustments to VMs or troubleshoot a problem in a physical server, such as Event Viewer and Device Manager.
The Failover Cluster Manager (MSFCM) area provides management of Hyper-V failover clusters to perform tasks such as quick and live migrations.
The Hyper-Converged Cluster Manager section stores the administrative tools to manage Hyper-V hosts that run Storage Spaces Direct (S2D) cluster. Before Project Honolulu, the only way to configure S2D was through System Center or PowerShell.
Another section named Extension Manager features plug-ins from Microsoft. The company plans to release a software development kit for Project Honolulu that would allow third parties to extend the utility's functionality with custom tools for the application.
Project Honolulu doesn't require agents to manage remote systems.
This was last updated in
January 2018
???publishDate.suggestedBy???
Continue Reading About Microsoft Project Honolulu
Dig Deeper on Windows Server Monitoring and Administration
PRO+
Content
Find more PRO+ content and other member only offers, here.