Definition
Microsoft System Center Configuration Manager (SCCM)
Microsoft System Center Configuration Manager (SCCM) is a Windows product that enables administrators to manage the deployment and security of devices and applications across an enterprise. Administrators also commonly use SCCM for endpoint protection. SCCM is part of the Microsoft System Center systems management suite.
The SCCM integrated console enables management of Microsoft Application Virtualization (App-V), Microsoft Enterprise Desktop Virtualization (Med-V), Citrix XenApp, Microsoft Forefront and Windows Phone applications from a single location.
Content Continues Below

Download this free guide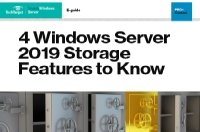 Download Now: 4 Windows Server 2019 Storage Features to Know
Microsoft includes storage features in Windows Server 2019 to ease migration and create highly available and scalable software-defined storage in data centers. Catch up on the latest features and their promises here.
System Center Configuration Manager relies on a single infrastructure, unifying physical and virtual clients under one umbrella. SCCM also adds tools to help IT administrators with access control. SCCM discovers servers, desktops and mobile devices connected to a network through Active Directory and installs client software on each node. It then manages application deployments and updates on a device or group basis, allowing for automated patching with Windows Server Update Services and policy enforcement with Network Access Protection. System Center Endpoint Protection Manager is built into System Center Configuration Manager to secure data stored on those devices.
Core features of Microsoft SCCM
Some core features in Microsoft System Center Configuration Manager include:
Windows management- To keep pace with updates to Windows 10.
Endpoint protection- To provide identification and malware protection.
Reporting- To present information on users, hardware, software, applications and software updates.
Operating system (OS) deployment- To distribute operating systems to devices in an enterprise.
Software update management- Which allows users administrators to deliver and manage updates to devices across an enterprise.
Application delivery- Which allows administrators to deliver an application to all devices across an enterprise.
Health monitoring- Which shows client health and activities in the console, and can alert users if health statistics decrease past a specified level.
Several key features of System Center Configuration Manager help administrators address the bring-your-own-device (BYOD) trend in the enterprise, including user-centric management. End users can search for applications with a self-service software center and specify times when installations and upgrades take place. IT administrators can install applications in different ways on different devices. For example, as a native application on a primary device or as a Remote Desktop Services app or App-V program on a tablet. SCCM also includes role-based access control (RBAC), which enhances system security by only showing end users the interface elements that apply to their specific roles as defined by Active Directory.
SCCM Vs. SCOM
Microsoft System Center Configuration Manager is similar to, and can be confused with, Microsoft System Center Operations Manager (SCOM). SCOM allows system and application administrators to deploy, configure, manage and monitor the operations, services and applications of many devices within an enterprise through a management console.
SCCM and SCOM are both Microsoft enterprise applications. SCOM, however, focuses on enterprise monitoring on the server-side. SCCM, instead, is not considered a monitoring application and focuses on the client side.
This was last updated in
May 2019
Continue Reading About Microsoft System Center Configuration Manager (SCCM)
Dig Deeper on Windows administration tools