momius - Fotolia
News
Stay informed about the latest enterprise technology news and product updates.
A first look into the Exchange 2016 Preview
Microsoft rolled out the Exchange Server 2016 Preview with productivity and collaboration changes. But is it actually a new version of Exchange?
Microsoft recently released the preview version of Exchange Server 2016, which has been in the works for a while. This version appears to be solid, a review that's not really surprising.
From a collaboration point-of-view, Exchange 2016 uses the new Office Server functionality to bring end users new features, such as viewing documents in split screen. Unfortunately, Office Server hasn't yet been released as a preview version, so Exchange admins can't test this functionality. The preview also includes the ability to send attachments as links to SharePoint and OneDrive documents. Microsoft made most of the improvements to the Outlook Web App (OWA).
To experience the full effect of Exchange Server 2016, you'll have to upgrade to Outlook 2016 -- Outlook has always been an extension of the Exchange experience. For example, Outlook 2013 introduced in-line replies as well as the modern apps that also came in Exchange 2013's OWA. OWA in Office 365 is a good indicator of what's to come to the on-premises world, but keep in mind that not all features will be available.
Along with productivity and collaboration enhancements, Microsoft addressed long-standing complaints about search functionality, speed and consistency in Exchange 2016. As someone who frequently uses OWA and Outlook, my search experience in Outlook is vastly different from that in OWA. The results in OWA are usually much better than Outlook. The Outlook client uses the operating system's ability to search the mailbox's offline cache, whereas OWA uses the server-side index. In Outlook 2016, which isn't technically an Exchange Server feature, you now use the server-side index when it's connected to the server online. When the client is offline, it reverts to the local search index.
The new Exchange, as told by the build number
Consider the build number for the Exchange 2016 Preview. Unlike earlier versions, the major build number didn't change, from 15 to 16. Instead, the Exchange Server 2016 Preview is 15.1. Previously, .1 increment-builds referred to Service Packs. For example, Exchange 2010 Service Pack 1 is 14.1 and Service Pack 2 is 14.2.
OWA in Office 365 is a good indicator of what's to come to the on-premises world, but keep in mind that not all features will be available.
Does this build number change mean that Exchange 2016 isn't a full new version of Exchange? It is and it isn't. If you already installed the Exchange 2016 Preview onto your device, you may notice that it shares quite a bit of its internal coding with Exchange 2013. If it weren't for new features, it would be hard to differentiate between the Exchange 2016 Preview and Exchange 2013 purely from a user interface perspective.
This is a positive thing because hardly any good comes from disruptive changes. End users generally accept small, incremental changes. If you shake things up too much, end user approval might drop and you might need to implement additional training so they understand new features and get the most value out of the messaging system.
Can you spot the changes with Exchange 2013 OWA in this screenshot?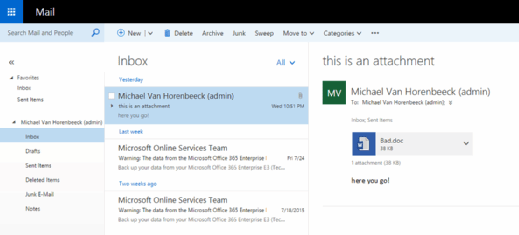 For those looking for more deep technical changes, don't despair -- there are plenty here. A while back, Microsoft talked about the new architecture featuring only a single server role. If not a logical step forward, it helps reduce discussion about whether to deploy multirole servers (which you should).
What to tell your staff
The Exchange team is going to want all the technical details on Exchange 2016. But you also need to explain the upgrade to the entire company, including people with no reason to care about server roles. Here's how to explain it: Exchange 2016 is an evolution of Exchange 2013, not necessarily a revolution. It builds upon Microsoft's experience running Office 365 and from feedback on Exchange 2013, improving features where needed.
Why upgrade to Exchange Server 2016?
If the Exchange Server 2016 Preview is so similar to Exchange 2013, what's the value in upgrading?
Before upgrading from one version of Exchange to the other, ask yourself that question. If you don't have a good reason, then why should you? There's a cost associated with migrating and usually a fair amount of risk involved as well.
Exchange 2016 offers quite a bit to consider and even offers more than Exchange 2013 had upon its launch, which had features that were considerably better than Exchange 2010.
There's a lot more to talk about, but remember that the information from this article is based on the preview version of Exchange 2016. Between now and the final Exchange 2016 release, changes will most likely be made. Some features might not make the release whereas Microsoft may decide to add new features when the product is generally available.
About the author:
Michael Van Horenbeeck is a Microsoft Certified Solutions Master and Exchange Server MVP from Belgium and works for ENow, a company that provides systems management software for Microsoft technologies. He specializes in Exchange, Office 365, Active Directory and a bit of Lync. Van Horenbeeck is an active contributor in the Exchange community by writing articles for several tech websites and his own blog and by participating in the UC Architects podcast. He frequently speaks at international conferences, including TechEd, IT/DEV Connections and the Microsoft Exchange Conference.
Dig Deeper on Exchange Server setup and troubleshooting