Get started
Bring yourself up to speed with our introductory content.
A look at Microsoft Office Project Professional 2007
This excerpt from "Microsoft Office Project Server 2007: The Complete Reference" breaks down some of the new features that have been added to Office Professional 2007.
---
The focus of this book is on Microsoft Office Project Server 2007, but just as it was important to discuss WSS 3.0, it is also crucial that we provide some level of coverage of Microsoft Office Project Professional 2007. Microsoft Project is by far the market leader in the project management tool market and acts as the main toolset for those in the project manager role in Microsoft EPM. We will not be discussing general use of Project Professional in this book, but rather focusing on the areas where Project Professional interfaces with Project Server. In Chapter 3, improvements in connectivity were discussed as well as items such as caching. This section discusses some significant changes––some directly connected to Project Server, others just worth mentioning.
Multiple-Level Undo
If there was ever a feature that people clamored for in Microsoft Project, multiple-level undo was it. Project has improved with every version, becoming more and more powerful over time. Performing more than a single undo has never been allowed until now (see Figure 3-20). The new version allows up 99 levels of undo (and redo). You probably won't need this many levels, but this is a major improvement.
FIGURE 3-20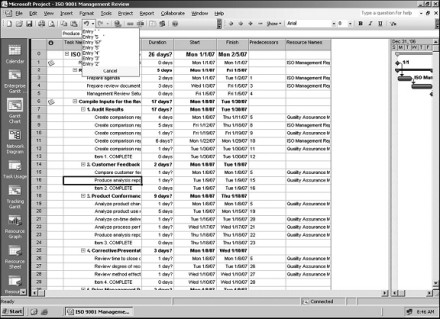 Project Scheduling Improvements
The next two new functions make project scheduling more transparent and easier to manage.
Transparent Scheduling (Task Highlighting)
Successor tasks are highlighted with a color background when predecessor tasks change in a way that impacts them (see Figure 3-21). In addition, a new left-side pane (Task Drivers - next) is available if selected by the PM from the Project menu to reduce the number of clicks required to view more task-level detail (not displayed in figure).
FIGURE 3-21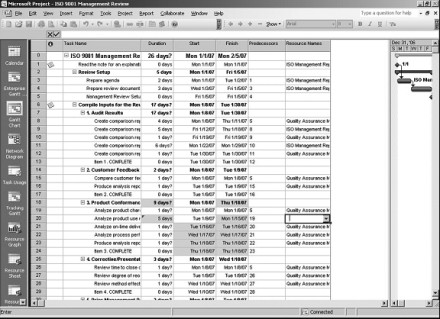 Task Drivers
This new feature allows the project manager a view into what drives the completion of a given task. In previous versions, getting the information shown in Figure 3-22 took some additional mouse clicks as the Project Manager was forced to double-click one task at a time. Now, just scrolling through the tasks, say with the down arrow key, will expose the schedule drivers for the currently highlighted task.
FIGURE 3-22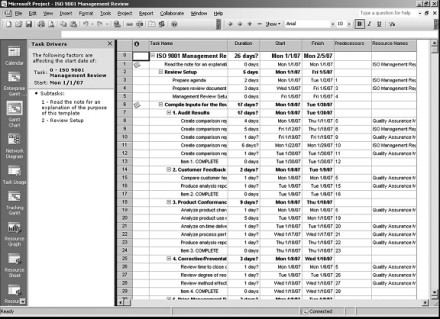 A Single Publish Command
When publishing a project to Project Server 2003, you could select from one of four commands: Publish All, Publish Project Plan, Publish New and Changed Assignments, or Republish Resource Assignments. Each had its place depending on the circumstances and the need at the time. In Microsoft Office Project Server and Project Professional 2007, there is a single Publish command found in the File menu that takes care of most of the decision making for the person publishing the project.
Gantt Bars
Project Server 2007 has made a minor improvement in the appearance of Gantt bars, which now offer a three-dimensional look, as shown in Figure 3-23.
FIGURE 3-23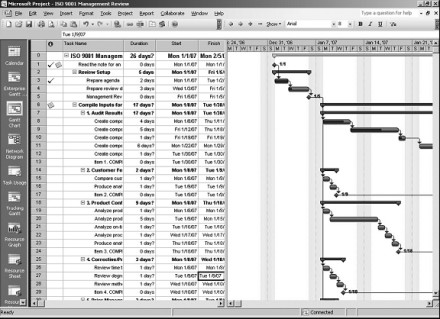 Miscellaneous Features
The following are the additional features available in Project Server 2007.
Support for Master/Sub Projects
This support enables users to manage large programs as smaller projects and to maintain them inside a single "master" plan. This support was always available in Microsoft Project when it was run as a stand-alone application, but raised serious difficulties when Project was used with Project Server. Microsoft has improved this support and it now works well. More details on this support are provided later in the book.
Deeper Office Integration with Office 2007
Microsoft Office 2007 offers better integration, whether with Excel and Visio for reporting or with Office known document types (including Word, Excel, PowerPoint, or any other document with an iFilter), for Check-In/Check-Out as well as major and minor versioning.
The key change is in the way that Project Server works with Outlook 2007. Instead of using the Outlook Calendar for tracking project tasks, Project Server now uses the Tasks feature in Outlook. Note that just as in Project Server and Outlook 2003, Outlook pulls this information from Project Server, and that Project Server has no feature that enables it to recognize existing the Outlook Calendar or tasks as a way to block available time for projects.
OFFICE PROJECT SERVER 2007
- Introduction
- Tip 1: New Project Web Access features
- Tip 2: A look at Project Professional 2007
- Tip 3: Features no longer available