Anticipation builds for key Windows Server 2016 features
Microsoft's push to develop its container technology and its other advancements in Windows Server caught the attention of our experts.
Microsoft generated quite a bit of fanfare for its moves in the consumer space following the release of Windows 10 and its renewed push toward establishing itself as a hardware vendor with the Surface Pro 4 tablet, Surface Book and Microsoft Band. In the enterprise space, the company also drew enthusiasm for the number of Windows Server 2016 features it added with each ensuing technical preview.

Download this free guide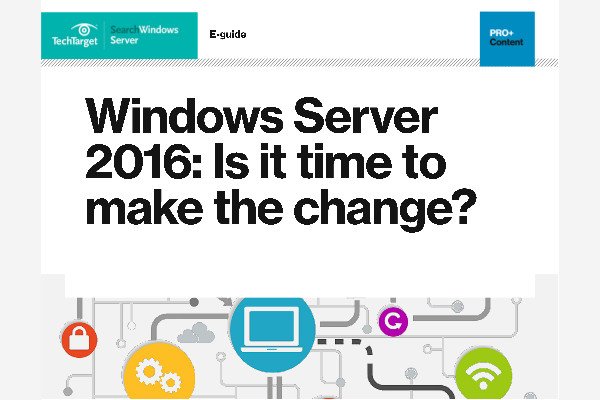 Download: Buyer's Guide to Windows Server 2016 in 2018
You may be due for an upgrade! Check out our full Windows Server 2016 Buyer's Guide to see if a switch to the new server would be the best move for your organization.
For administrators, the biggest news in the software space was how Microsoft was going small with the next version of Windows Server to help businesses even further maximize their resources beyond traditional virtualization. Microsoft released three technical previews of Windows Server 2016, refining and adding features with each consequent release. The company unveiled Nano Server in the second technical preview, offering a barebones version of Windows Server for hosting containers and Hyper-V virtual machines. The third technical preview debuted support for Windows Server containers to fit more virtualized applications on a host. Microsoft also delivered Hyper-V containers in technical preview 4 of Windows Server 2016, wrapping up containers inside a virtual machine for added security.
We asked our SearchWindowsServer contributors to tell us what they were anticipating the most from Microsoft in 2016 and why.
Adam Bertram
It's almost 2016 and Windows administrators should be excited for a ton of new features coming from Microsoft in the server space. I've decided to focus on a few items that have garnered lots of attention. If Windows Server 2016 RTM is anything like the technical previews, administrators should prepare now to dedicate some serious time to exploring everything in the server OS.
Nano Server
I see Nano Server, the brainchild of technical fellow Jeffery Snover, as the most important new operating system coming in 2016. Enterprises are struggling with VM sprawl. They are wasting precious resources to host these VMs that are sometimes only running at 10% utilization or less. Microsoft introduced Nano Server in April 2015 to provide enterprises with a server that's fast; small; and, due to its minimalistic nature, secure. Microsoft built Nano Server without a GUI to strip out gigabytes of unnecessary artifacts to make it 93% smaller than Windows Server with a GUI. Microsoft claims Nano Server will reduce reboots by 80% and result in 92% fewer critical bulletins.
Containers
With the meteoric rise of container darling Docker, containers were a hot topic in 2015 and show no signs of slowing down for 2016. Although Linux containers have been around since 2008, it wasn't until 2015 that Docker made them cool. As an answer to containers, Microsoft has released Hyper-V and Windows Server containers -- and provides Docker support in Windows Server 2016. I'm looking forward to seeing where Microsoft-supported containers go in 2016.
Nested virtualization
Have you ever needed to virtualize a Hyper-V host? I have! I am a trainer and use demo environments with virtualized servers every day, but building a lab to demonstrate concepts of a Hyper-V host meant we had to pull together some physical hardware. This is no more. Using "meta" virtualization we can virtualize a Hyper-V hypervisor through nested virtualization!
PowerShell Direct
When you've got dozens -- or hundreds -- of Hyper-V VMs to deploy, sending commands to them without a network connection used to be a pain. Now, with PowerShell Direct in Windows Server 2016, Microsoft removed that limitation. PowerShell Direct provides a simple way to manage Hyper-V VMs through a powerful new parameter to the PSSession cmdlets called VMName. No network stack needed.
Click here for more from Adam Bertram.
Brien Posey
The thing I am looking forward to the most from Microsoft in 2016 is the Windows 10 Phone. Some of the next generation Windows Phones will be able to function as a PC replacement, running Windows 10 universal apps and supporting keyboard, monitor and mouse connectivity. These phones will essentially be the same as having a PC in your pocket.
On the server side, I am most looking forward to the next version of Hyper-V called Hyper-V 2016. The next version of Hyper-V will have a number of improvements to an already excellent hypervisor. One of the new features that I am most excited about is discrete device assignment. This feature maps a PCI device to a specific VM, giving the VM ownership of that device. This could lead to the virtualization of servers that had special hardware requirements that prevented them from being virtualized.
Microsoft is also going to make it possible to add or remove network adapters and memory while a virtual machine is running, allowing administrators to reconfigure VMs without needing to reboot. The ability to hot add or remove network adapters will be supported for generation 2 virtual machines running Windows or Linux. Hot adding or removing memory will be supported for both generation 1 and generation 2 virtual machines.
Another feature that I am excited about is updates to the Hyper-V integration services will be delivered through Windows Update. Currently, it's a pain to update the Hyper-V integration services for VMs that are running a guest operating system that does not match the host operating system. Delivering Hyper-V integration services updates through Windows Update will ensure the integration services remain up to date, and VMs are able to fully utilize the hypervisor's capabilities.
Click here for more from Brien Posey.
Trevor Pott
I think the biggest thing to look forward to in Windows Server 2016 is containers. Containers are a big hit with developers, and this might spread to Windows if Microsoft manages everything right. In turn, this could help drive adoption of Azure; however, I honestly think Microsoft's moves to disconnect legal liability in its European operations from its U.S. headquarters will have a much greater impact on cloud uptake than any Windows Server 2016 features. Americans can't understand it, but privacy and data sovereignty actually mean something in the rest of the world.

Storage replica might be interesting, but it might also be too little, too late. Storage replica is really of interest to an organization that wants to roll its own small hyper-converged clusters. Multiple players are offering hyper-converged solutions for Hyper-V today, so the relevance is disputable. It's a nice to-have, however.
Hewlett Packard Enterprise's "Azure in a can" hyper-converged offering is probably more important than any feature of Windows Server itself, as it brings Microsoft's hybrid cloud solution to the masses. Microsoft's cloud tools have been horribly unfriendly to install, administer and use, but this Azure product just might be usable. That's a huge step forward and will make Microsoft a real threat in 2016.
Hyper-V hot-add of NIC and memory are also very important. This brings critically needed feature parity to Microsoft's offering and finally allows it to catch up to VMware for serving tier 0 and tier 1 applications. This will let Microsoft start challenging VMware for critical application hosting.
What I believe won't be a huge deal is Nano Server. So far, Windows Core hasn't seen huge uptake, and neither has Hyper-V Server. Windows administrators still use full-fat GUI installs to do everything, even if it is "just" a Hyper-V server.

Microsoft wants to wean administrators from RDPing into servers, but doesn't understand that many administrators don't want to be tied into the client/server lock-step. They need to be able to manage servers remotely from older versions of the Windows client operating system, which Microsoft does not allow.
Click here for more from Trevor Pott.
Ed Tittel
There's quite a bit of buzz building around a Remote Desktop Universal Windows Platform (UWP) app. This tool will let Windows Phone users access their Windows 10 PC desktops through the Continuum feature. Sounds pretty slick and handy, right?
It's supposed to be ready in a Windows Server Technical Preview sometime very late in 2015 or early in 2016 for Windows 10 Mobile. Given where we're at in the build cycle for Windows 10, that probably means some preview build in the short term and inclusion in the next "big" set of cumulative updates.
I see it as a trend to put smart devices and smartphones on the front lines of computing everywhere. The excellent remote access and remote control environment called TeamViewer already makes this possible, and it also already supports iOS and Android. Except for the small percentage of phone users who've stuck it out with Windows-based hardware and software, that future is pretty much already here.
Click here for more from Ed Tittel.