Evaluate
Weigh the pros and cons of technologies, products and projects you are considering.
ChangeAuditor for Active Directory
ChangeAuditor was created by Quest Software to provide real-time change management by delivering detailed reports about changes and activities as they occur in an infrastructure.
Quest Software ChangeAuditor proactively audits the activities taking place in an infrastructure and delivers reports with detailed information about changes and activities as they occur.
ChangeAuditor offers complete, real-time change management that drives network availability and productivity with auditing and in-depth forensics of all key configuration changes in Windows. They include changes to Active Directory, File Server and Microsoft Exchange Server. Quest Software designed it to let Windows administrators instantly know the who, what, when, where and why of every change made to their Windows environments, plus the original and current values.
The solution enables IT pros to proactively audit their Windows enterprises through a single client. ChangeAuditor translates raw event data into details regarding all changes as they occur, such as Group Policy Objects, directory and user attribute changes. It also gives immediate alerts showing critical change details, applies automatic remediation for fast resolution and quickly generates in-depth compliance reports.
The latest version's new features include the following:
Extended audit coverage to further drive compliance and improve operational efficiency.
More than 160 new alerts for member servers, DNS, registry, file systems, and Exchange that help IT operations to audit events, head off problems, minimize downtime and improve compliance.
More than 20 new built-in reports that document changes and demonstrate steady progress toward internal and external audit requirements.
New database maintenance capabilities and high-security, tamper-proof agents.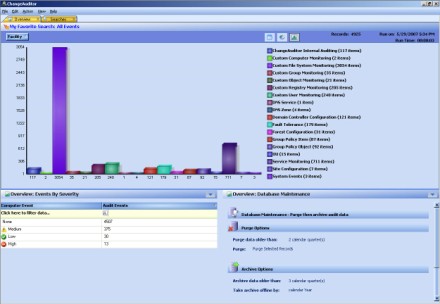 System requirements: Windows 2000 Professional SP4 with Update Rollup 1 and Microsoft Windows Installer 3.1, Windows Server 2003 SP1 with Microsoft Windows Installer 3.1, Windows XP SP2 with Microsoft Windows Installer 3.1, Windows Vista, Internet Explorer 6.0 or higher, Microsoft's .NET Framework version 2.0.
Pricing: $12 (Active Directory module), $4 (File Server module) and $4 (Exchange Server module).
Dig Deeper on Windows Server troubleshooting