Completing a clean install of Microsoft Windows Vista
Learn how complete a clean install of Microsoft Windows Vista.
In this selection from Windows Vista Secrets , authors Brian Livingston and Paul Thurrott examine the steps admins need to take to complete a clean install of Microsoft Windows Vista.
---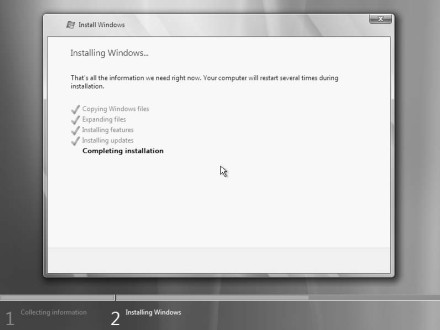 Grab lunch while Setup installs Windows Vista.
After you've selected the disk and formatted it if necessary, you can walk away from your computer for 20–45 minutes, depending on your hardware. During this time, Setup will copy the various files it needs for installation to the hard drive, expand the Vista image file from the DVD, install Windows Vista and any included software updates, and complete the installation by attempting to load drivers for your hardware. A screen like that shown above will display during this entire process.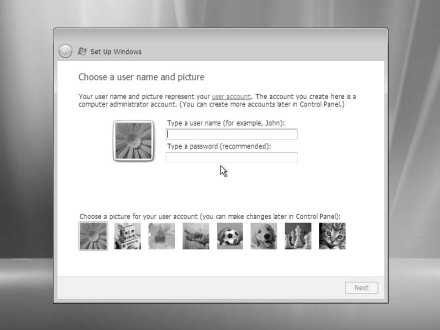 Here, you specify the account you'll typically use in Windows Vista.
A reboot or two later, and your PC will launch into the second, and final, interactive phase of Setup. In the first screen, shown above, you are prompted for a user name (typically a short name like Paul or Brian and not a full name like Ferris Bueller), password, and display picture. If you don't choose a picture, you get the flower by default. (You've been warned.)
Secret:
A few notes about this initial user account. Unlike Windows XP, Windows Vista does not create a visible Administrator account automatically for security reasons. Nor are you allowed to create up to five user accounts, as you were in XP. Instead, you can create a single user account during Setup. That user account will be given administrator privileges.
Subsequent user accounts—created in Windows Vista using the User Accounts Control Panel—are given limited user privileges by default, but that's easy enough to change. We look at creating and modifying user accounts elsewhere in the book.
Caution: Be sure to use a password, please. It's unclear to us why Microsoft even makes this optional, but using a strong password is one of the most basic things you can do to keep your system more secure.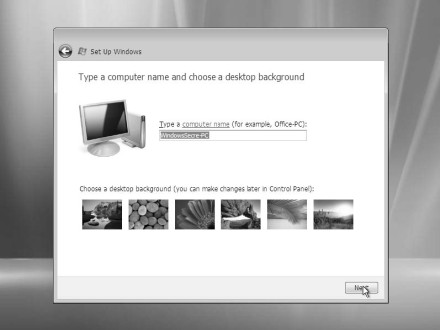 Here, you configure computer-related options.
Type a name for your PC and choose a desktop background (see above figure). By default, Setup picks a PC name that is based on your user name. This is probably not a great name for your PC, but you're free to change it.
Secret:
Setup provides you with only six potential background images for some reason. To change your background to another image or a solid color after Setup is complete, right-click the Desktop, choose Personalize, and then Desktop Background. You'll see many more choices there.
Secret:Setup doesn't let you specify a workgroup name, or join an Active Directory-based domain, as did the Windows XP Setup routine. To change this after Setup is complete, open the Start Menu, right-click Computer, and choose Properties. Then, click the Change Settings link in the Computer name, domain, and workgroup settings section of the resulting window. The dialog box that appears is very similar to the one you're used to from Windows XP.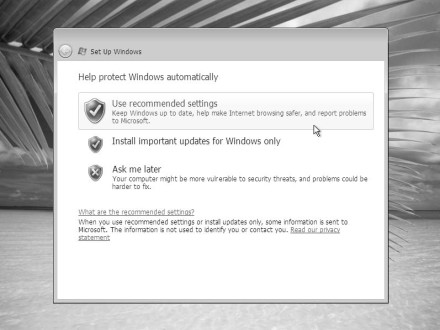 In this part of Setup, you configure Automatic Updates.
Choose whether to enable Automatic Updates, shown above. You can use the recommended settings, in which Windows automatically downloads and installs all updates, can install only important updates, or can choose to be prompted later.
Secret:
This behavior is far more aggressive than the similar Setup screen that Microsoft added to Windows XP with Service Pack 2. Note that you can't choose to download but not install updates. Our advice is to choose the Ask Me Later option for now, even if you completely trust Microsoft. Then, you can configure Automatic Updates later using the new Windows Update utility. From that interface, you can use the more traditional options, including downloading but not automatically installing.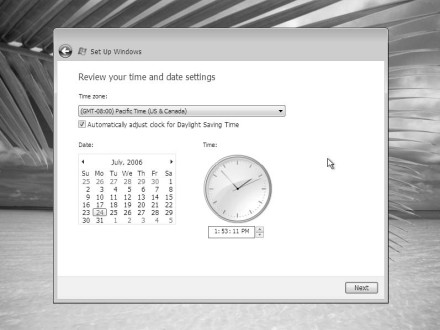 Curious that the time zone defaults to Pacific Time.
Configure the time zone, date, and time.
Secret:
Even if you're not particularly careful about setting the time correctly here, Windows Vista will eventually adjust to the correct time automatically, because it is configured out of the box to synchronize with an Internet time server. That said, you should at least make an effort to ensure that the time is reasonably correct to avoid problems with this process.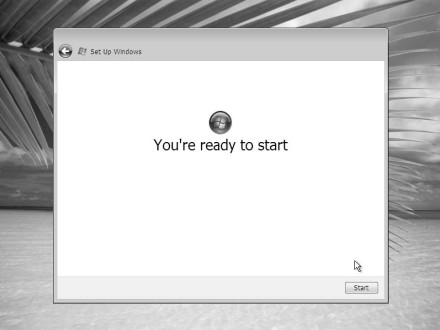 The moment we've all been waiting for.
Setup announces when Interactive Setup is complete and you're ready to start.


How to perform a clean install of Microsoft Windows Vista



Introduction


Starting a clean install of Microsoft Windows Vista


Continuing with a clean install of Microsoft Windows Vista


Completing a clean install of Microsoft Windows Vista
Dig Deeper on Windows Server troubleshooting