Evaluate
Weigh the pros and cons of technologies, products and projects you are considering.
Computer Based Training for Microsoft Office 2007
For training employees on Microsoft Office 2007, learn how Computer-Based Training from Brainstorm helps Windows IT managers instruct employees on Windows Vista, SharePoint, Access and more.
BrainStorm's Computer-Based Training for Microsoft Office 2007 provides tutorials for training end users on all of the features in Office 2007.
BrainStorm Inc.'s Computer-Based Training (CBT) modules provide up to 10 hours each of instructor-led tutorials that can be customized and installed on an organization's network or loaned out in its CD versions. These Flash-based CBTs do not require any extra software installation, can be viewed categorically and users can search tutorials through easy-to-use interfaces.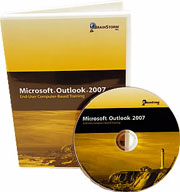 Figure A: BrainStorm Inc.'s Computer-Based Training (CBT) modules
Titles are available for many Microsoft applications, including Windows Vista, Outlook, SharePoint, Excel, Word, PowerPoint, Access, Publisher and Project.
Features of Computer-Based Training modules for Microsoft Office 2007 offer trainees the following:
Pre-defined courses designed specifically to fit their needs.
Organization-specific courses with the network version of CBT for adding a company's own videos and choosing what users will see when they need more help.
A "More Help" button links to specific software resources or an organization's help desk if there are questions not answered by the CBT.
System requirements: Single-user and library license -- Windows 2000/XP/Vista, DVD-ROM drive. Soundcard network license. Client (Windows 2000/XP or Linux or Mac OS X, Internet Explorer or Firefox, Flash 7 plug-in or newer, soundcard). Server (IIS running on Windows 2000 Server or 2003 Server or Apache running on any supported Apache platform, 450 MB free disk space, 512 MB RAM recommended).
Pricing: $99 for a single-user license, $299 for a library license. For pricing according to the number of users for a network license, contact BrainStorm directly.
Dig Deeper on Windows administrator jobs and training