Defining Active Directory Group Policy: Terms you need to know
Resultant Set of Policy? Group Policy Management Console? What does it all mean? Learn how to talk the talk with this Group Policy glossary.
Whether you're new to Active Directory Group Policy, or a seasoned pro just trying to keep all the terms straight, you've come to the right place.

Download this free guide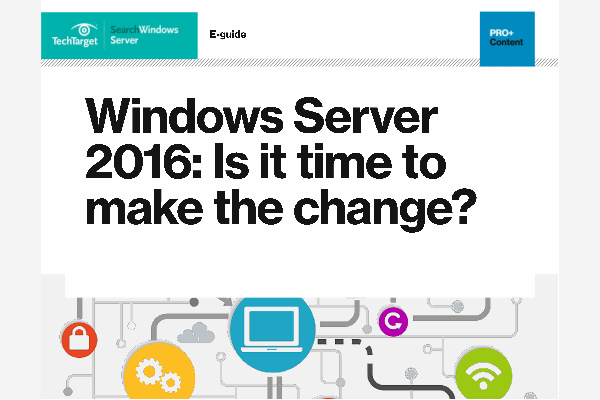 Download: Buyer's Guide to Windows Server 2016 in 2017
You may be due for an upgrade! Check out our full Windows Server 2016 Buyer's Guide to see if a switch to the new server would be the best move for your organization.
By submitting your personal information, you agree that TechTarget and its partners may contact you regarding relevant content, products and special offers.
You also agree that your personal information may be transferred and processed in the United States, and that you have read and agree to the Terms of Use and the Privacy Policy.
This Group Policy glossary will guide you through all the important terms to know when it comes to Group Policy, from RSoP to GPMC and everything in between.
Get more information about Group Policy on our topic page.
What is Group Policy?
You're probably familiar with the concept of Group Policy: it's the technology administrators use to manage enterprise users, desktops and server configurations in an Active Directory infrastructure. With Group Policy, users can be automatically connected to a printer near them, plus a whole world of other opportunities.
What is the Group Policy Management Console?
The Group Policy Management Console is the interface that administrators use to manage Group Policy Objects. It provides an overview of AD users and computers, sites and services, the access control list editor and delegation.
What is Resultant Set of Policy?
RSoP reports all group policy settings within Active Directory, which shows how settings can affect the network, or how GPOs affect users on the network.
What is gpresult?
Related to RSoP, gpresult is a command-line tool that shows the RSop for a user based on Group Policy settings.
What is a Group Policy Object?
Group Policy Objects are a collection of settings for a system setup and how users will interact in an AD infrastructure. In Windows Server 2012 and Windows 8, an administrator can set Metro-specific GPOs, like using a defined color for the start menu.
What are Group Policy Preferences?
In Windows Server 2008 and later, Group Policy Preferences are extensions accessible by the Group Policy Management Console that include mapped drives and printers, and advanced folder settings.
Are there other Group Policy terms that you want to learn? Let us know in the comments, or via Twitter @WindowsTT. For more IT definitions, check out WhatIs.com
Dig Deeper on Microsoft Group Policy Management