Evaluate
Weigh the pros and cons of technologies, products and projects you are considering.
Desktop Authority 7.6
Desktop Authority is a leading desktop management solution for Windows networks. Version 7.6 allows admins to increase network security and reduce total cost of ownership, while easing migrations to Windows Vista.
ScriptLogic's Desktop Authority is one of the leading desktop management solutions for Windows networks, allowing administrators to increase network security and reduce total cost of ownership.
Desktop Authority version 7.6 helps enterprises meet compliance and security requirements by providing functionality to configure, manage, support and inventory desktops from a central location.
The tool is designed to accelerate migrations to Windows Vista with single-point management of the user environment and desktop applications. IT also allows for centralized control in one management console for Remote Control, hardware and software inventory, plus enterprise security options for patch management, spyware removal and device lockdown.
With Desktop Authority allows administrators to:
manage a mix of Vista and non-Vista platforms from one console, with one common set of security and configuration policies
centralize management of Internet Explorer and Microsoft Office preferences for a consistent user experience
The product also includes a patented Validation Logic technology, which gives admins control over the criteria that determine when to apply each desktop configuration element. In version 7.6, Validation Logic has been extended to recognize Windows Vista to provide centralized management over new Windows features such as User Access Control, Windows firewalls and desktop agents.

For those managing virtual environments, Desktop Authority offers improved control of desktops running in a VMWare-based virtual environment by detecting whether a desktop is running on a physical or a VMWare virtual machine, and applying the appropriate configuration.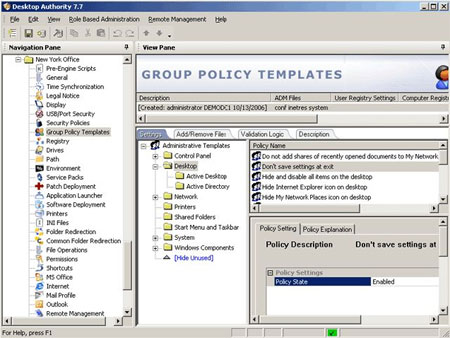 System Requirements: Processor: Pentium 600MHz processor or faster; 256 MB of memory; supports Microsoft Windows Server 2003 with SP2, Windows 2000 Server with SP4, and .NET 2.0 Framework
Pricing: Desktop Authority is licensed at $39 per seat. USB/port security, antispyware, and patch distribution and deployment options are each an additional $10 per seat.
Dig Deeper on Windows Server troubleshooting