Get started
Bring yourself up to speed with our introductory content.
Establishing an SCOM 2007 backup schedule
This excerpt from "System Center Operations Manager 2007 Unleashed" provides suggested time frames for backing up databases and files used by SCOM 2007.
---
In addition to identifying required files for backup, you should also establish a regular backup schedule. Tables 12.1 and 12.2 give suggested time frames for backing up significant databases and files used by Operations Manager 2007.

Download this free guide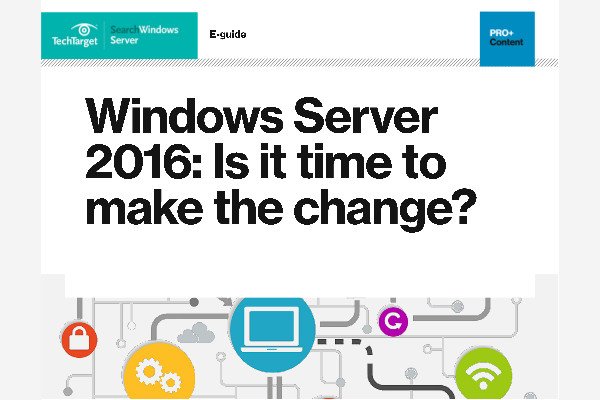 Download: Buyer's Guide to Windows Server 2016 in 2018
You may be due for an upgrade! Check out our full Windows Server 2016 Buyer's Guide to see if a switch to the new server would be the best move for your organization.
Establishing a daily backup schedule for those files that change regularly helps ensure any data loss affects less than 24 hours worth of data. It also makes it possible to meet your Service Level Agreements (SLAs) if you have backups of the information necessary to restore any OpsMgr components!
TABLE 12.1: OpsMgr Databases with Recommended Backup Schedule

Database
Name
Type of Data
Recommended Backup Schedule
Operations database
OperationsManager (default)
This database contains the majority of the OpsMgr configurations, settings, and the current operations data. The loss of this database would require completely reconfiguring Operations Manager and result in the loss of all operational data.
Daily
Data Warehouse database
OperationsManagerDW (default)
This database holds all the data used for reporting and can be large. The loss of this database would mean the loss of all historical operations and reporting data.
Daily or Weekly
SQL Reporting database
ReportServer
This database holds all the report definitions, as well as cached report information and snapshots. The loss of this database would mean having to reimport reports and re-create subscriptions. Minimal impact.

If you have installed ACS, it will have its own reporting subsystem and instance of the ReportServer database.

Monthly
ACS database
OperationsManagerAC (default)
This database tracks Security Event logs being cleared by an agent. A new table is created daily for that day's events.
Daily
Master database
master
This database is a SQL system database and records the system information for SQL Server 2005. Back up the Master database for every SQL Server instance in your OpsMgr environment.
Daily or when changes
Msdb database
msdb
This database is a SQL system database and holds information on all jobs scheduled through SQL Server. It can be found on every SQL Server instance in your OpsMgr environment. Although OpsMgr 2007 does not use this database as it schedules its maintenance internally, if you create any jobs yourself within SQL Server (backups or database maintenance, for example), you should back up the Msdb database to retain that information.
Monthly or as needed
TABLE 12.2: Significant Files with Recommended Backup Schedule

| | | |
| --- | --- | --- |
| File | Type of Data | Recommended Backup Schedule |
| Management packs and reports (.mp and .xml files) | Source files for management packs and reports. Enable more granular restoration than entire Operations database; also used for moving management packs and reports from one management group to another. | After changes to management packs or reports |
| Custom files | Encryption key files, the IIS metabase, and so on. | As needed |


SCOM 2007 BACKUP AND RECOVERY

Introduction

Roles of key SCOM files and databases

Establishing a backup schedule

Database grooming

Backing up the RMS encryption keys

Backing up management packs

Backing up reports

Disaster recovery planning
Home: Tip 1: Tip 2: Tip 3: Tip 4: Tip 5: Tip 6: Tip 7:
Dig Deeper on Microsoft Windows Data Backup and Protection