Five MCSA training tips IT pros should read to prep for certification
With MCSA one of the most popular Microsoft certifications to pursue, we compiled the five best tips to help admins with their MCSA training.
Months before the release of Windows Server 2012, Microsoft overhauled its certification program. But instead of creating completely new certifications, Microsoft took inspiration from its most popular certifications in recent years.

Download this free guide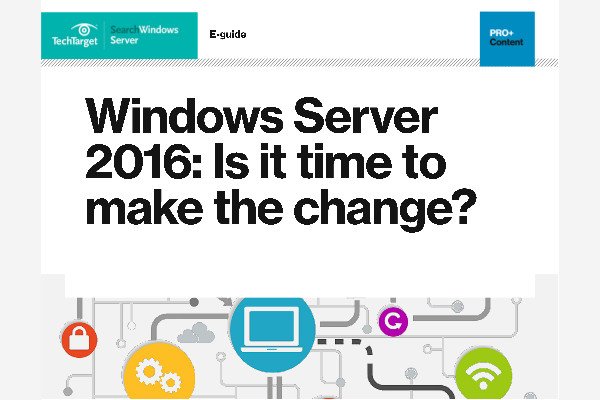 Download: Buyer's Guide to Windows Server 2016 in 2018
You may be due for an upgrade! Check out our full Windows Server 2016 Buyer's Guide to see if a switch to the new server would be the best move for your organization.
In a move toward the cloud OS, the Microsoft Certified Solutions Associate (MCSA), Microsoft Certified Solutions Developer (MCSD) and Microsoft Certified Solutions Expert (MCSE) certifications have updated information on Windows 8 and Windows Server 2012.
Because MCSA has become one of the most popular certifications for IT pros to pursue, we compiled the top five SearchWinIT.com tips admins should read to help prepare for the exam. We included a look at why Microsoft decided to bring back and update certifications, the changes to certifications and what materials are available to use during MCSA training.
Follow SearchWinIT on Twitter: @SearchWinIT
MCSA, MCSE and MCSD come back from the dead
Here's a look at why Microsoft brought back the popular MCSA, MCSE and MCSD certifications and what plans the company has to reinvent some of its most important credentials in certification.
What's new and what's changed with MCSE and MCSA
When Microsoft revamped its certification program, it brought back the popular MCSE and MCSA titles with completely new topic sets that have a focus on the cloud and reflect the Windows Server 2012 and Windows 8 releases.
Take the new MCSA exam to update Microsoft credentials
For IT pros wanting the newest Microsoft certifications based on Windows Server 2012, including MCSA: Windows Server 2012, they can take a one-exam upgrade if they already hold certain Windows Server 2008 credentials.
Study materials ready for Windows Server 2012, not quite for Windows 8
The gap of time between the release of Windows Server 2012 and Windows 8 means there is also a gap between study materials. Here's a look at the materials now available for MCSA: Windows Server 2012 and what to expect in the coming months for Windows 8.
Books to consider when studying for MCSA training
If you're getting ready to hit the books and begin your MCSA training, you should know what companies offer for certification study materials. This tip takes a look at what's available right now and includes a look at what to expect in the near future.