Get started
Bring yourself up to speed with our introductory content.
Five Quick Links: Windows Azure
Here are some quick tips on Windows Azure -- Microsoft's Platform-as-a-Service product -- that help explain what Azure means for the future of Windows Server.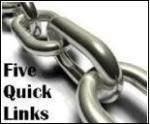 Microsoft is going all out with its Windows Azure product in an effort to convince IT companies to move to the cloud. And with features like Server App-V and Virtual Machine role designed to take application management to the next level, Microsoft says Azure can do just that.
These quick links run down the basics of Windows Azure, including key features, as well as how the IT world is responding to Microsoft's cloud strategy.
For more information on Windows Azure visit our cloud computing topic page.
---
1. Microsoft enters cloud space with Windows Azure
Microsoft may have shown up to the party a little late, but that hasn't stopped the company from becoming an important force in cloud computing with Windows Azure.
2. Windows Azure: Breaking down the basics
Azure is designed to redefine application management, and the way organizations function. Expert Jonathan Hassell examines how Azure works and what it means for IT.
3. Microsoft makes strides with Azure for Windows shops
Microsoft's aggressive cloud approach is intended to shift the Windows Server lifecycle, as the company aims to make Azure a frontrunner in the cloud market.
4. Where the Windows Azure VM role makes sense
In an effort to smooth the app migration path, Microsoft developed the Azure VM role so admins can instantly deploy Hyper-V machines to the cloud. It does, however, come at a cost.
5. A closer look at the Server-App feature in Azure
Similar to Azure's VM role feature is Server App-V -- a stripped-down app migration tool. Expert Steven Warren takes a closer look at App-V and its role in the Windows cloud.
You can follow SearchWindowsServer.com on Twitter @WindowsTT.
Dig Deeper on Microsoft Azure cloud services