Evaluate
Weigh the pros and cons of technologies, products and projects you are considering.
Five Windows Server 2012 R2 features admins should know
The features in the latest iteration of Windows Server can improve an enterprise's capabilities and bring it closer to the cloud.
Microsoft touted the release of Windows Server 2012 R2 as the iteration of Windows Server that could bring enterprises one step closer to the cloud. We take a look at five of the Windows Server 2012 R2 features that can improve an enterprise's capabilities while also helping it take steps to move to the cloud.

Download this free guide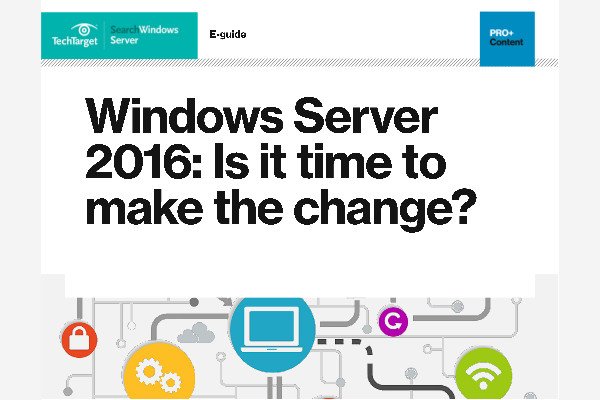 Download: Buyer's Guide to Windows Server 2016 in 2018
You may be due for an upgrade! Check out our full Windows Server 2016 Buyer's Guide to see if a switch to the new server would be the best move for your organization.
Boosting performance with Storage Spaces
Storage Spaces has a number of capabilities in Windows Server 2012 R2, such as protecting data with failover capability and enabling data dedupe while minimizing storage capacity requirements. All of these -- plus three new features -- can help with performance.
Work Folders helps to enable BYOD synchronization
Learn more
To learn more about the terminology used in Windows Server 2012 R2 features, click on each definition:
Work Folders can help end users sync their data over multiple devices so they can access it when they're working offline. End users have options for enabling Work Folders using PowerShell or Server Manager. Admins can also make configuration a simple process.
Task automation gets easier with PowerShell 4.0
PowerShell 4.0 is one of the most promising features in Windows Server 2012 R2. The latest version of PowerShell comes loaded with a number of new parameters, the inclusion of the Desired State Configuration (DSC) feature, and changes to the default execution policy.
DSC drives configuration drift to extinction
Including DSC in Windows Server 2012 R2 was meant to give admins the option to maintain consistent configuration sets through PowerShell providers and extensions, all of which are meant to help users avoid the dreaded configuration drift.
Breaking down the benefits of virtual hard disks
Because Windows Server 2012 R2 and Hyper-V use the VHDX file format, admins can take advantage of virtual hard disks' increased size (from 2 TB to 64 TB) and features to enhance performance, including large drive optimization and more efficient file data representation.
For the latest on Windows Server 2012 R2 features, be sure to visit our Windows Server Operating Systems and Microsoft Applications page and follow us on Twitter @SearchWinServer.
Dig Deeper on Microsoft Windows Server 8 Administration