Problem solve
Get help with specific problems with your technologies, process and projects.
Guide: Troubleshooting Microsoft Outlook
Got a Microsoft Outlook problem? Whether you've run into a confusing error message, your users are experiencing password or calendar issues, or you simply can't connect, we've got the answer here.
IT managers, administrators and users can all agree that email is hypercritical for day-to-day business. So when Microsoft Outlook goes down, it's your job to get it back up. However, troubleshooting Microsoft Outlook is not a simple task. There are various security and calendar issues, as well as connectivity problems and confusing error messages to deal with.

Download this free guide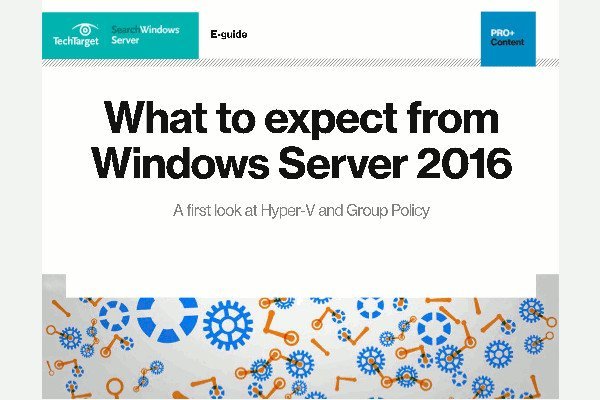 Download: A first-look at Hyper-V and Group Policy in Windows Server 2016
Access this complimentary guide to learn how Group Policy and Hyper-V features and capabilities have changed in Windows Server 2016, and discover the key networking, security, and storage benefits these changes offer.
No matter which Outlook issues you run into, the tips and expert advice below offer plenty of helpful information to make sure that email is always up, your users are happy and that your job isn't more difficult than it has to be.
Outlook user issues
Repairing the three most common problems that annoy Outlook 2010 users
Believe it or not, Microsoft Outlook 2010 is far from perfect. These three common Outlook 2010 issues -- including difficulty searching Outlook 2010 -- may be plaguing your users. Here's how to fix them.
Command-line switches to troubleshoot Outlook 2010 problems
Are your users complaining that Outlook isn't working properly? Try booting it with one of these five command-line startup switches. More than likely, one will help identify – as well as fix the problem, not matter which version of Outlook you're running.
Troubleshooting Outlook 2010 calendar entry corruptions
Calendar quirks can drive both users and administrators crazy. Don't stress; we'll show you how to fix common Outlook 2010 calendar entry issues.
Expert Mailbag: Resolving common Outlook user issues
Some Outlook user problems are more common than others. In this edition of our Expert Mailbag, you'll find out what to do if your Outlook users continually receive duplicate messages, why spell check may not be working and more.
Answers for faulty Outlook and hosted Exchange connections
Some early Office 365 adopters have found that Outlook won't connect to hosted Exchange for one reason or another. Before calling Office 365 support, check out the likely culprits, as well as the solutions.
Outlook error messages
How to fix the five most common Microsoft Outlook errors
Some Microsoft Outlook error messages crop up more frequently than others. Take a look at the five most common Outlook error messages -- including what to do if you're having difficulty reinstalling Outlook 2007 -- and their quick fixes.
Outlook 2010 and Exchange 2007 connection error workaround
Did you receive the 0x80070057 error message when trying to connect Outlook 2010 to Exchange Server 2007? The cause might surprise you. We've also got the five-step workaround that will fix the Outlook connection issue.
Deciphering the extend.dat Outlook error message
Frustrated administrators have been dealing with the extend.dat error since Microsoft Outlook 97. But why did it happen, and what can you do about it? Our expert sheds some light on this all-too-common Outlook error message.
Outlook security issues
Got Microsoft Outlook problems? Always remember to check security add-ons
Third-party add-ons are supposed to aid and protect users, but if they're not properly configured, they may be harming Outlook more than they're helping. Find out why you should always check Outlook security add-ons like mail scanners and firewalls first when troubleshooting Microsoft Outlook.
Here's why your users' Outlook passwords are not being saved
Passwords are your users' gateway to their Outlook accounts, so making sure they work properly is paramount. Outlook passwords may not be getting saved for several reasons. Here's what you need to do to make sure your users' Outlook passwords get stored and saved.
Free Outlook troubleshooting tools
Free Outlook tool eliminates AutoComplete list restrictions
While many users and admins would like the ability to edit AutoComplete list values in Outlook, it's not enabled by default. Find out how one free Outlook tool lets administrators and users repair, edit and delete .nk2 files.
Remove duplicate email messages with free Outlook add-on
Removing duplicate email messages in Outlook can free up valuable storage space and CPU time wasted during indexing. This Outlook add-on automatically searches for and deletes redundant messages and is compatible with Microsoft Outlook 2000 through Outlook 2010.
Dig Deeper on Outlook management