Get started
Bring yourself up to speed with our introductory content.
Harden Remote Access Clients
This excerpt from Chapter 11 of Roberta Bragg's "Hardening Windows Systems" describes how to harden remote access clients.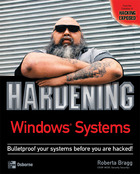 Get a glimpse inside Roberta Bragg's book "Hardening Windows Systems" with this series of book excerpts. Below is the introductory excerpt from Chapter 11, "Harden Communications." Click for the complete book excerpt series or purchase the book.



---
Harden Remote Access Clients

Client hardening should be done as a matter of installation and upkeep. Of critical importance on remote access clients is the use of a personal firewall and updated antiviral product. In addition, harden authentication, policy use, and encryption on the client. Client configuration can be centralized using Group Policy and for Windows NT 4.0, by creating profiles using the Connection Manager Administration Kit (CMAK). Like IEAK, CMAK is simply a way to create a standard user remote access profile and distribute it from a central location. The profile can be installed as part of an IEAK Package. A version is available for Windows 2000, Windows XP, and Windows Server 2003.
Click for the next excerpt in this series: Use IAS to Centralize Authentication, Accounting and Authorization.
---
Click for book details or purchase the book.
---
Dig Deeper on Windows Server troubleshooting