Evaluate
Weigh the pros and cons of technologies, products and projects you are considering.
Idera's Point admin toolset
Learn how Idera's Point admin toolset lessens the administrative overhead and knowledge needed to manage Microsoft SharePoint
Idera's Point admin toolset lessens the administrative overhead and knowledge needed to ensure the effective operation of Microsoft SharePoint.
The Point admin toolset from Idera gives Microsoft SharePoint administrators a "tool belt" that lets them perform key tasks without the need for deep SharePoint expertise. Its "Who-can-Access-What" tool allows admins to determine which users have access to which sites, libraries or data within SharePoint.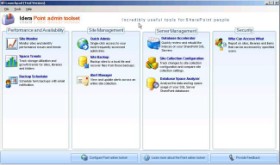 Figure 1: Point admin toolset (Click on image for enlarged view.)
Version 1.0 also includes 10 essential tools for monitoring SharePoint sites, servers as well as backup and security, including:
Tools for monitoring the performance and storage usage of SharePoint and for ensuring that data is properly backed up

The Site Monitor tool identifies performance issues and site trends.
The Space Trends tool reports on storage usage and growth trends for sites, libraries and folders.
The Backup Scheduler tool schedules backups with compression and email notification.

Tools that enable daily site administration tasks, document recovery and managing alerts

Quick Admin manages all SharePoint admin links from a single place.
Site Backup allows admins to back up sites to a local file and recover files from those backups.
The Alert Manager tool is a central spot to view and update alerts across an entire site collection.

Tools that ensure the servers that support SharePoint are well maintained

Database Accelerator quickly reviews and rebuilds the indexes on SharePoint SQL Servers.
The Site Collection Configuration tool tracks changes to site collection configurations and compares site collection settings.
Database Space Analyzer analyzes data and log space usage of SQL Server SharePoint databases.
System requirements: Windows XP SP2 or higher, Windows 2003, Windows Vista, Windows Server 2008. The Point admin toolset management service has the same requirements as WSS 3.0 and MOSS 2007. The management service must be installed on an existing SharePoint Web Front End.
Pricing: $795 per server.
Dig Deeper on SharePoint administration and troubleshooting