Evaluate
Weigh the pros and cons of technologies, products and projects you are considering.
Longitude 5.0
With Longitude 5.0, Heroix created app performance and monitoring software for service level management.
Heroix Longitude 5.0 is application performance and monitoring software that consolidates and correlates application, server and network service-level agreements (SLAs) and IT infrastructure performance metrics.
Longitude 5.0, from Heroix, based in Newton, Mass., gives organizations the ability to manage IT performance and business service levels. In the latest 5.0 version, Longitude accelerates time to deployment, delivers immediate insight and expedites the resolution of technology performance problems.
There are customized real-time dashboards, reports and alerts, and topology-based views and annotations for reports and SLAs. This release also has the ability to generate synthetic Web transactions and monitor virtual machines.
Longitude 5.0's new features include the following:
An out-of-the-box ability to monitor Windows, Linux and Unix systems, Web, database, messaging and J2EE, servers: network and infrastructure components, virtual machines, common transactions; and usage trends.
An Event Monitor that lets administrators view events, troubleshoot issues and respond to problems from a single interface. Managers can drill down for real-time troubleshooting, modify performance thresholds, enable notification and corrective action and suspend or disable events.
A built-in dashboard and prepackaged reports.
SLAs that combine data across multi-tiered applications to give a view of availability and performance from a business perspective.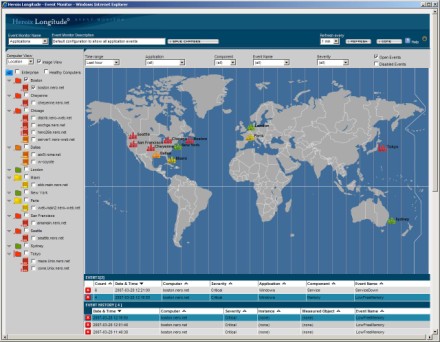 Platforms: Windows Server 2003, Red Hat Linux 9, ES 3.0, AS 4.0, ES 4.0, SUSE Linux 9, 10.0; at least 2.4 GHz Intel Pentium 4 or Xeon processor; at least 1 GB of main memory and at least 5 GB of disk space; 100 MB Ethernet adapter.
Pricing: $99 per monitored server.
Dig Deeper on Windows Server troubleshooting