Get started
Bring yourself up to speed with our introductory content.
Microsoft Exchange Server 2007 performance tutorial
Discover Exchange Server 2007 best and worst practices for optimal server performance with this tutorial. You will also read about the best Exchange hardware configuration options, helpful native and third-party tools, how to prepare your server for potential problems and more.
Monitoring, troubleshooting and enhancing Exchange Server 2007 performance can help optimize server functionality. Analyzing native and third-party tools, understanding hardware dos and don'ts and implementing configuration best practices are critical to keep your Exchange Server 2007 running smoothly. Check out these feature tips and tutorials on how to maintain peak Exchange Server 2007 performance.

Download this free guide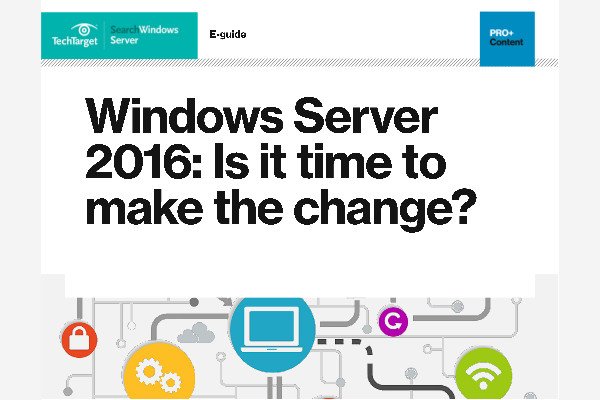 Download: Buyer's Guide to Windows Server 2016 in 2018
You may be due for an upgrade! Check out our full Windows Server 2016 Buyer's Guide to see if a switch to the new server would be the best move for your organization.

Exchange Server 2007 performance tutorials and tips
Top Exchange Server performance monitoring and troubleshooting tools
An overloaded Exchange server can severely affect productivity and performance. However, deploying the proper Exchange Server monitoring and troubleshooting tools can help. In this resource guide, get an overview of some top tools for monitoring and diagnosing Exchange performance problems.
Why too much memory can hurt Exchange Server 2007 performance
One of the fundamental rules of working with Microsoft hardware and software has been that you must add more memory to achieve optimal performance. Exchange Server 2007 breaks this rule. Discover the point when adding additional memory to a mailbox server can hurt Exchange 2007 performance.
Optimizing Exchange Server performance -- Three hardware don'ts
There are several tips and best practices for improving your performance in Exchange Server 2007. If you want to optimize your Exchange Server's performance, here are three things you should never do at the hardware level.
Exchange 2007 memory and hardware configuration best practices
It is commonly assumed that the more memory you have, the less likely Exchange Server will experience any performance bottlenecks. Although Exchange 2007 is even more powerful on systems with 4 GB of RAM or more, there is a limit to how much memory you should have. Use this tip to find out what how much you need.
Benefits of SAN-based storage in Microsoft Exchange Server 2007
The release of Exchange Server 2007 has forced administrators to change their beliefs on Exchange Server information stores and how their placement can affect the server. Discover some SAN benefits in regard to performance and how best to transition your Exchange Server 2007 infrastructure to SAN-based storage.
Running Exchange Server and other server apps on the same hardware
If you have Exchange Server and other server applications on the same machine, you could seriously hinder server performance. Exchange Server 2007 was designed to use all available physical server memory. This tip explains why depriving Exchange Server of memory doesn't get the most out of its host hardware.
Exchange Admin 101: Server roles in Exchange Server 2007
With the release of Exchange Server 2007, server roles have become a prominent part of defining specific tasks for each aspect of the server. Discover each role and find out how intimate knowledge of their responsibilities can improve Exchange Server 2007 performance.
Dig Deeper on Exchange Server setup and troubleshooting