Get started
Bring yourself up to speed with our introductory content.
Microsoft certification design and special exam question formats
In this excerpt from MCSA/MCSE 70-290 Exam Cram by Dan Balter and Patrick Regan, learn more about the types of question formats you'll run into while taking a Microsoft certification exam.
MCSA/MCSE 70-290 Exam Cram: Managing and Maintaining a Windows Server 2003 Environment
By Dan Balter and Patrick Regan

MCSA/MCSE 70-290 Exam Cram offers IT professionals critical information for scoring higher on their 70-290 exams.


Purchase the full book, MCSA/MCSE 70-290 Exam Cram: Managing and Maintaining a Windows Server 2003 Environment.
The following excerpt is from chapter one entitled "Microsoft Certification Exams."

---
Special Exam Question Formats
Starting with the exams released for the Windows Server 2003 MCSE track, Microsoft introduced several new question types in addition to the more traditional types of questions that are still widely used on all Microsoft exams. These innovative question types have been highly researched and tested by Microsoft before they were chosen to be included in many of the "refreshed" exams for the MCSA/MCSE on the Windows 2000 track and for the new MCSA/MCSE exams on the Windows Server 2003 track. These special question types are as follows:

Download this free guide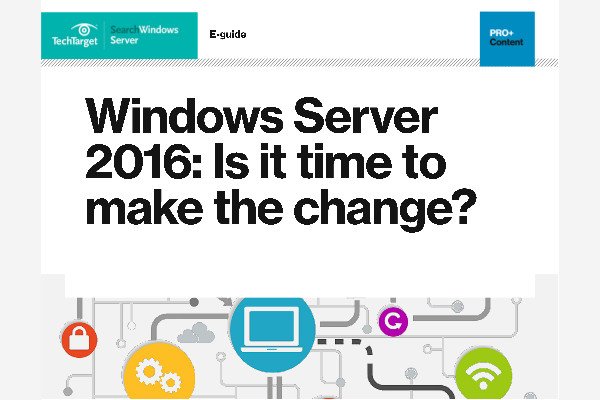 Download: Buyer's Guide to Windows Server 2016 in 2018
You may be due for an upgrade! Check out our full Windows Server 2016 Buyer's Guide to see if a switch to the new server would be the best move for your organization.
Hot area questions

Active screen questions

Drag-and-drop–type questions

Simulation questions
Hot Area Question Types
Hot area questions ask you to indicate the correct answer by selecting one or more elements within a graphic. For example, you might be asked to select multiple objects within a list, as shown in Figure 1.7.
Figure 1.7 Selecting objects within a list box to answer a hot area question.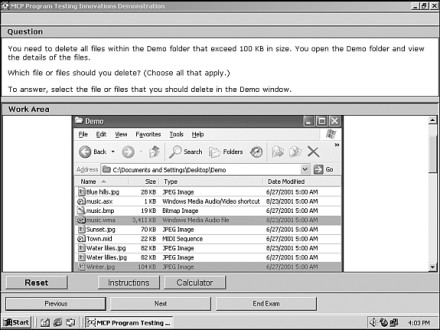 Active Screen Question Types
Active screen questions ask you to configure a dialog box by modifying one or more elements. These types of questions offer a realistic interface in which you must properly configure various settings, just as you would within the actual software product. For example, you might be asked to select the proper option within a drop-down list box, as shown in Figure 1.8.
Figure 1.8 Configuring an option from a dialog box's drop-down list box to answer an active screen question.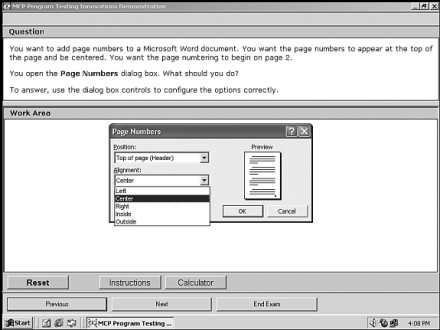 Drag-and-Drop Question Types
New drag-and-drop questions ask you to drag source elements to their appropriate corresponding targets within a work area. These types of questions test your knowledge of specific concepts and their definitions or descriptions. For example, you might be asked to match a description of a computer program to the actual software application, as shown in Figure 1.9.
Simulation Question Types
Simulation questions ask you to indicate the correct answer by performing specific tasks, such as configuring and installing network adapters or drivers, configuring and controlling access to files, or troubleshooting hardware devices. Many of the tasks that systems administrators and systems engineers perform can be presented more accurately in simulations than in most traditional exam question types (see Figure 1.10).
Figure 1.9 Using drag-and-drop to match the correct application description to each software program.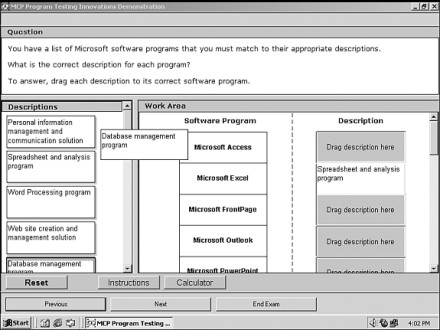 Figure 1.10 Answering a simulation question about how to troubleshoot a network printing problem.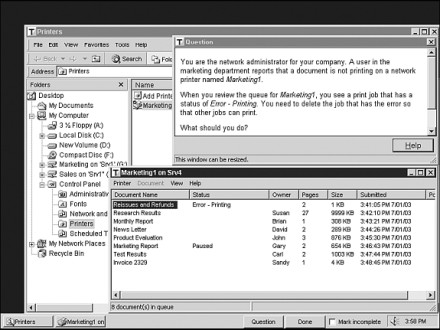 Design Exam Question Formats
The Windows 2000 MCSE certification track first introduced Microsoft's design series of exams. For the Windows Server 2003 MCSE track, design exams continue to be a core part of the curriculum. For the design exams, each exam consists entirely of a series of case studies, and the questions can be of six types. The MCSE design exams for the MCSE on Windows Server 2003 track include the following:
70-229—Designing and Implementing Databases with Microsoft SQL Server 2000 Enterprise Edition

70-297—Designing a Microsoft Windows Server 2003 Active Directory and Network Infrastructure

70-298—Designing Security for a Microsoft Windows Server 2003 Network
For design exams, each case study or "testlet" presents a detailed problem that you must read and analyze. Figure 1.11 shows an example of what a case study looks like. You must select the different tabs in the case study to view the entire case.
Figure 1.11 The format for case-study questions.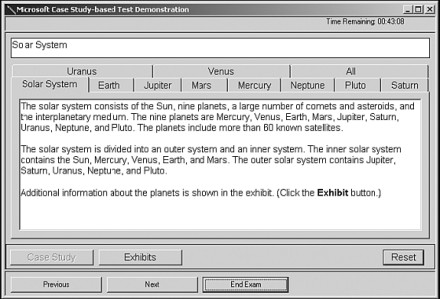 Following each case study is a set of questions related to the case study; these questions can be one of six types (which are discussed in the following sections). Careful attention to the details provided in the case study is the key to success. You should be prepared to frequently toggle between the case study and the questions as you work. Some of the case studies include diagrams, which are called exhibits, that you'll need to examine closely to understand how to answer the questions.
After you complete a case study, you can review all the questions and your answers. However, after you move on to the next case study, you might not be able to return to the previous case study to make any changes.
For the MCSA and MCSE core exams and the upgrade exams, the same six types of questions can appear, but you are not likely to encounter complex multi-question case studies. The MCSA/MCSE core exams and upgrade exams for the Windows Server 2003 track include the following:
70-290—Managing and Maintaining a Microsoft Windows Server 2003 Environment
70-291—Implementing, Managing, and Maintaining a Microsoft Windows Server 2003 Network Infrastructure

70-292—Managing and Maintaining a Microsoft Windows Server 2003 Environment for an MCSA Certified on Windows 2000

70-293—Planning and Maintaining a Microsoft Windows Server 2003 Network Infrastructure

70-294—Planning, Implementing, and Maintaining a Microsoft Windows Server 2003 Active Directory Infrastructure

70-296—Planning, Implementing, and Maintaining a Microsoft Windows Server 2003 Environment for an MCSE Certified on Windows 2000
Continue to Part Four: Microsoft testing formats
Table of contents:
Dan Balter is the chief technology officer for InfoTechnology Partners, Inc., a Microsoft Certified Partner company. He works as an IT consultant and trainer for both corporate and government clients and has worked with several network operating systems throughout his 24-year career. Dan holds the following Microsoft certifications: MCDST, MCSA, and MCSE.

Patrick Regan is a senior design architect/engineer and training coordinator for Miles Consulting Corp (MCC). He holds many certifications, including the Microsoft MCSE, MCSA, and MCT; CompTIA's A+, Network+, Server+, Linux+, Security+, and CTT+; Cisco CCNA; and Novell's CNE and CWNP
Dig Deeper on Microsoft certification program