Evaluate
Weigh the pros and cons of technologies, products and projects you are considering.
NTRconnect Pro
NTRconnect Pro from NTRglobal is a powerful solution providing secure, remote access to desktop PCs and Macs.
NTRglobal designed NTRconnect Pro for professionals who are out of the office and who need secure access to their computers and co-workers' computers and files.
NTRconnect Pro offers users the most powerful feature on the market to remotely access their PCs or Macs, offering unlimited access to any computer connected to the Internet. The tool allows users to answer e-mail, attend to customers and colleagues at any time and access their corporate intranets.
In addition, NTRconnect Pro allows shut down computers to be rebooted and worked on remotely. This means that if a computer is accidentally shut down or loses power, NTRconnect Pro will still let users access the computer from a remote location, complete with keyboard, mouse and screen control. The feature was designed to increase the confidentiality of a connection by automatically blocking the keyboard, mouse and screen of a remote computer.
Other features include the following:
A high-speed platform for faster file transfers
Security reports that allow users to view all login attempts on their computers
The ability to improve access security by strengthening passwords with a keycard if a user feels someone may be accessing his computer illegally
Access to co-workers' computers and online files by professionals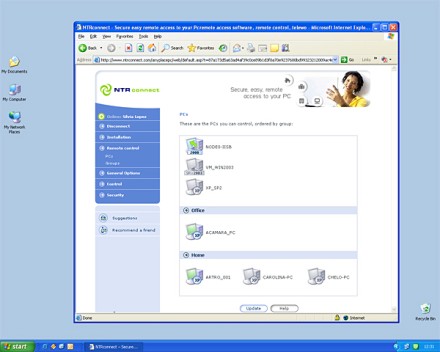 System requirements: Windows 9X, Windows 2000, Windows NT, Windows ME, Windows Server 2003, Windows XP, Windows Vista, Mac 10.2. Any Linux distribution of kernel 2.4 or 2.6 including Ubuntu, SUSE, Fedora, Debian, Mandriva and others.
Other requirements: Microsoft Windows Mobile -- Windows Mobile 2003, Windows Mobile 2003 SE, Windows Mobile 5 and Windows Mobile 6 for Pocket PC. Internet Explorer 5, Netscape 6, Firefox 1.0, Opera 8.0, Opera 9.0, Camino 1.0, Safari 1.0, Konqueror and Epiphany.
Pricing: NTRconnect Pro is $9.95 for one computer, $8.98 per computer for 2 to 9 computers, and $7.81 per computer for 10 to 20 computers, after a free 30-day trial period.
Dig Deeper on Windows Server troubleshooting