Get started
Bring yourself up to speed with our introductory content.
PowerShell resources for Windows Server 2008
Interested in learning Windows PowerShell? This excerpt from "Windows Server 2008: The Complete Reference" provides tips for those looking to get the most out of Microsoft's scripting language.
---
Throughout the implementation of your network, you installed several tools and discovered several ways to manage systems. Many administrators install administrative tools on their own PCs. This is fine to some degree, but some tools do not lend themselves to this type of installation. For example, Server Manager does not support remote computer connections; instead, you must publish Server Manager as a RemoteApp on each server and then link to the published application to remotely manage servers through this tool. This procedure is outlined in Chapter 9.
TIP
For additional information on tasks within Windows Server 2008, go to the WS08 TechCenter.
In addition, PowerShell does not run on Server Core, yet you can create a PowerShell command on a machine running the full installation of WS08 and execute it remotely on Server Core machines. This is why it is so important to have virtual machines that belong to the resource pool domain and that run the full installation just for the purpose of remote hardware resource management.
PowerShell is a command-line tool. This makes it a bit more complicated to work with for users who are not familiar with its commands. This is the reason why you should work through the PowerGUI, a free graphical interface for PowerShell that has been developed by Quest Software. Quest has built a community of users that keeps adding functionality to the PowerGUI. For example, this community has provided a series of different add-ons and additional functionality in categories such as file system, Active Directory Domain Services, network management, and more (see Figure 13-1). There is no doubt that more and more will be added as administrators everywhere begin to work with PowerShell.
TIP
Microsoft also provides a lot of help on PowerShell. The main PowerShell page is here, and the TechNet Script Center offers many source scripts for PowerShell utilization.
In addition, you can get help for PowerShell through the free PowerShell Help from Sapien Technologies. Sapien is the maker of PrimalScript, a powerful graphical scripting engine that supports several scripting languages. PowerShell Help offers help on all of the PowerShell commands in a nice graphical layout (see Figure 13-2). PowerShell Help is available at here. While you're at it, get the free Logon Script Generator. It will also save you lots of time.
FIGURE 13-1 (click to enlarge)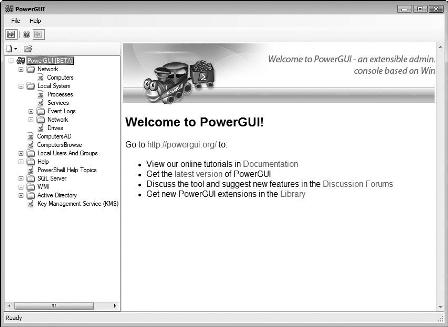 FIGURE 13-2 (click to enlarge)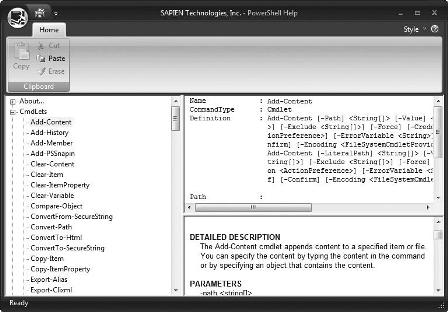 Finally, when all the help you can get just isn't enough, you can turn to professional scripting tools, such as Sapien's PrimalScript or iTripoli's AdminScriptEditor (ASE). ASE is an integrated scripting environment that features several unique tools, including a series of wizards that help you generate complex scripts for the Windows Management Instrumentation (WMI), Extensible Markup Language (XML), database management, Active Directory Services Interface (ADSI), and more (see Figure 13-3). ASE lets you create secure script executables that include encrypted administrator credentials, letting you run powerful scripts even in end-user contexts. For this alone, ASE is a valuable resource. In addition, it can generate scripts in a variety of languages, including PowerShell, KiXtart, VBScript, and just plain batch or command files.
TIP
More information on AdminScriptEditor can be found at here. iTripoli can be found at here.
FIGURE 13-3 (click to enlarge)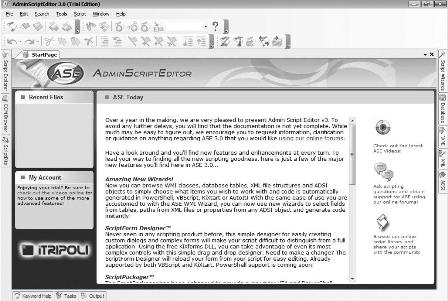 Danielle Ruest and Nelson Ruest are IT professionals specializing in systems administration, migration planning, software management and architecture design. Danielle is Microsoft MVP in Virtualization and Nelson is Microsoft MVP in Windows Server. They are authors of multiple books, including the free Definitive Guide to Vista Migration for Realtime Publishers and Windows Server 2008: The Complete Reference for McGraw-Hill Osborne. For more tips, write to them at info@reso-net.com.
Dig Deeper on Windows Server storage management