Get started
Bring yourself up to speed with our introductory content.
Project Web Access with Microsoft Office Project Server 2007
This excerpt from "Microsoft Office Project Server 2007: The Complete Reference" explains some of the new Project Web Access features that are included with Project Server 2007.
---
As discussed in Chapter 3, Project Server 2007 provides a set of services that are presented through the PWA interface, which is a Web browser–based client that is at the core of this solution. PWA is the display side of Project Server and uses WSS 3.0 as its base platform. The following subsections focus on changes in the PWA-specific tools. There have been major improvements in PWA. Some of these items, such as time and task entry, are covered in more detail later in this book. Other items with a lesser profile may be discussed exclusively in this chapter.
The Completely Rearchitected and Improved Time and Task Entry
The 2003 timesheet was not bad but had limitations. In Project Server 2007, there has been a major redesign of the time and task reporting and approval process.
Included is the ability to separate the pure time reporting function (how many hours did I work last week?) from the updating of progress on project tasks (how is my task progressing and what remains for it to be completed?). Resource or functional managers now have time approval authority as most organizations prefer. Time that is reported is then imported into the area where project tasks can be updated. This new process has addressed requests that have been made by EPM customers in the past, but is not without flaws. There are some technical issues with the new time and task functions as well as functions that could have been designed differently for better overall usability. It is better than it was, but there is still much room for improvement. You will learn more on how to use these features in Chapter 18.
Time and Task Approvals
Timesheets no longer require a two-step process for someone with authority to approve their own time using automatic self-approval. In addition, comments associated with the time and task entry appear as a specific icon in the approval view's Indicator column or in a field in a view.
Ad Hoc Task and Time Reporting Support
Some organizations will create places to track all types of work, whereas others will not. One new option is just to add a line to the Tasks page (and timesheet) for something that was not preplanned for submission. As shown in Figure 3-9, the user can add a brand new task to a project plan, assuming permissions allow the user to do so.
FIGURE 3-9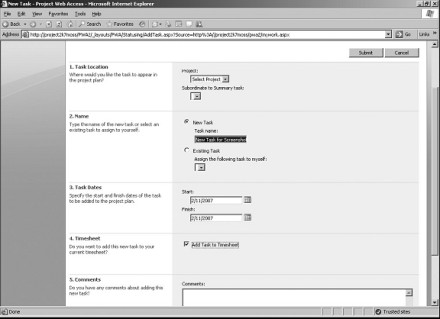 The Task-Level Notes Field
This feature, shown in Figure 3-10, allows team members to send a note to approvers with task-level comments attached in addition to more global timesheet and task submission comments.
FIGURE 3-10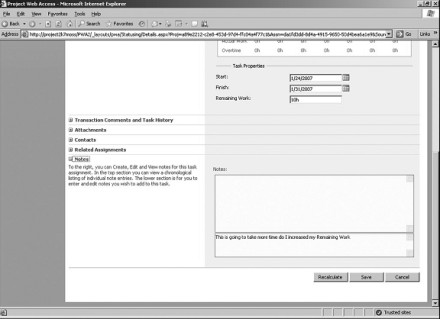 Team Tasks
It is now possible to assign to a project task a team rather than just an individual. When a team is assigned, each resource can see the item, and a single resource can then assign themselves, and record progress on the task.
Calendar View
Resources can now see their assignments in a calendar format (see Figure 3-11).
FIGURE 3-11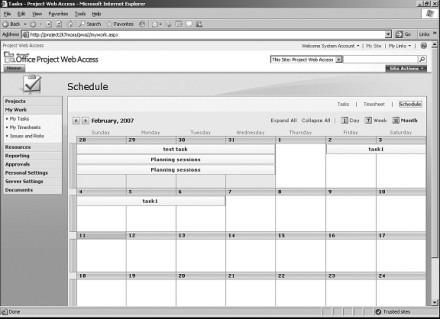 Easier and More Logical Administration Pages
Starting with the already improved SharePoint UI and redesigning the information architecture into a broader and less deep set of drill downs has made administrators' work easier and more intuitive. The PWA Administration pages are organized into eight areas, offer much better inline explanations than ever before, and are more logically subdivided. Figure 3-12 shows a high level view of the PWA Administration top screen.
WSS Administration pages for the site that hosts PWA are available on a different page and are organized using the same WSS standards.
Proposals
Each organization might handle incoming project requests in several ways depending on how the organization approaches its Microsoft Office Project Server 2007 effort. One new way is to use a feature called Proposals (see Figure 3-16). Potential projects can be entered at a fairly high level for visibility and consideration. They can then be promoted to full project status later if appropriate.
The Proposals feature has both advantages and disadvantages over other options for project intake. Other options include using InfoPath (especially when the Forms Services feature is added with Microsoft Office SharePoint Server) a custom SharePoint list with associated workflow, or if the organization decides to also implement Microsoft Project Portfolio Server, that includes options for incoming projects. Which method is appropriate depends on the organizational needs of the individual company.
Activities
Activities replace the previous To Do lists. There are two ways to approach the use of activities. The first is to use them for managing maintenance and support type tasks. These can have a team assigned through the use of a resource plan. The second is to use them in the same way that To Do lists were used in the past: as a single user's set of items to be accomplished.
Feature Comparison Table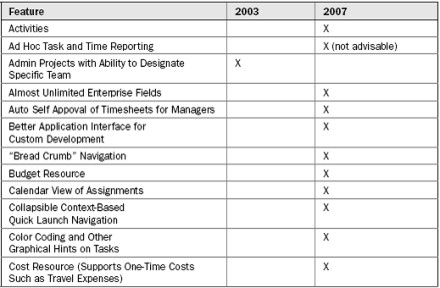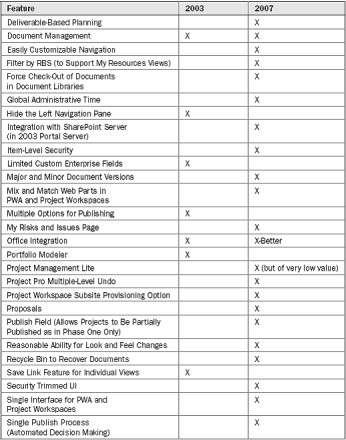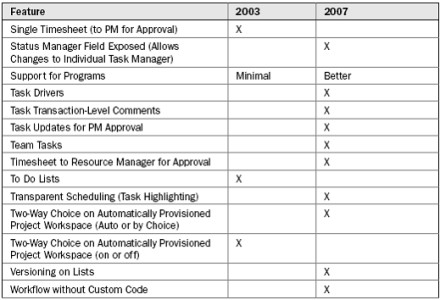 OFFICE PROJECT SERVER 2007



Introduction


Tip 1: New Project Web Access features


Tip 2: A look at Project Professional 2007


Tip 3: Features no longer available

Dig Deeper on Windows Server storage management