Quest Software Access Manager
Quest Access Manager provides a single console that identifies the files, folders, shares and other entitlements that users and groups can access throughout the enterprise. It is designed to help organizations meet security and compliance requirements, control operational costs and manage user access
Quest Access Manager provides a single console that identifies the files, folders, shares and other entitlements that users and groups can access throughout the enterprise. It is designed to help organizations meet security and compliance requirements, control operational costs and manage user access.
Quest Software Inc. created Access Manager as a way to deliver detailed information to administrators without having to specify which servers or applications should be examined. By deploying Access Manager on a Windows server, security agents are then deployed automatically, collecting information from the entire network and reporting back to one central console.
Other features include the following:
Real-time security mapping.
This feature creates and maintains a list of systems showing where a user has been granted access. It provides a real-time view across an enterprise while leveraging a data collection approach that minimizes network traffic.
Resource Access Manager. Once resources are deployed, administrators can see changes to resource access, which simplifies app and data management throughout the enterprise.
Access Policy Enforcer. Access Manager enables admins to enforce business access policies and adhere to Microsoft best practices for resource management, provisioning and security.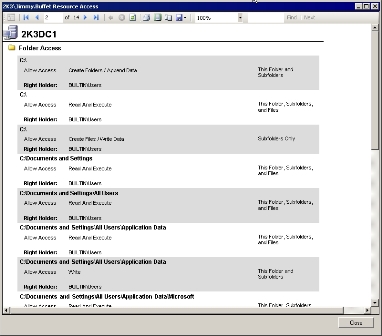 System requirements: An Intel Pentium-compatible CPU with 2 GHz or higher, 1 GB of memory (4 GB recommended), 10 Gb or more hard disk space (additional storage space is required for index), .Net Framework 3.0 SP1 or higher, Microsoft Management Console 3.0, Windows PowerShell 1.0, SQL Server 2005 or Express edition, Windows 2000 Server SP4, Windows Server 2003 and R2, Windows Server 2008 (32- or 64-bit).
Pricing: $10 per Active Directory user account.
Dig Deeper on Windows Server troubleshooting