Evaluate
Weigh the pros and cons of technologies, products and projects you are considering.
Specops Password Policy 2.1
Specops Password Policy 2.1 helps enforce better password management for Windows Active Directory
Specops Password Policy 2.1 helps enforce better password management for Windows Active Directory
Specops Password Policy is a password policy enforcer that addresses limitations in Active Directory. With Active Directory's built-in password policy, there can only be one policy per domain and it affects all the user accounts. Password Policy overcomes this restriction by allowing you to specify multiple password policies. It is based on Group Policy technology, which means it can be configured in any number of Group Policies within Active Directory. This tool also offers granular password complexity requirements when users specify the rules for a password policy.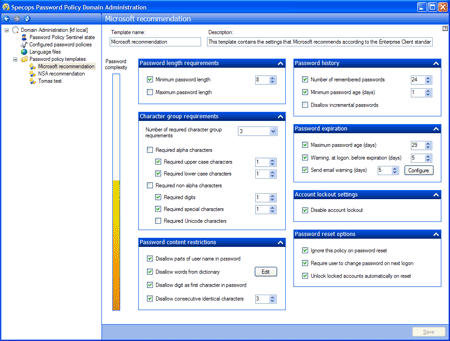 Figure A: Specops Password Policy
Password Policy offers several business and technical benefits, including increased security from external intrusion via weak passwords, decreases in help desk calls to reset passwords and better organizational structure for password management. This tool also provides greater flexibility in the creation of passwords, offers the ability to set a password that complies with national security organization requirements and has increased ability to meet and pass ever-growing security audits even for small and medium-sized enterprises.
Version 2.1 offers greater granularity for passwords and more management features, including 64-bit support, delegated Group Policy implementation, password history security, email notification, enhanced password complexity and lockout functionality. It has client support in 11 languages and Windows PowerShell automation support.
Password Policy's new features include the following:
A choice of 20 different settings when configuring a password policy. This provides more granularity and security for passwords.
Support for Windows Vista and 64-bit servers/clients, opening up the software to IT managers operating in those environments.
A fully scriptable feature for automating all administrative tasks through .NET programming or Windows PowerShell scripting. Version 2.1 includes a custom Windows PowerShell cmdlet.
Supports 11 languages in the end-user password change dialog.
System requirements: Microsoft Windows 2000/SP4 or later, Microsoft Management Console on server only.
Pricing: $4 for 1,000 users; $3 per 5,000 users; $2 per 10,000 users.