Spotlight on top new Exchange 2013 features
There are several new Exchange 2013 features that should interest those debating an upgrade. We examine several standouts and how to work with them.
Now that companies are free to migrate to Exchange Server 2013, many admins have begun researching whether an upgrade makes sense. The bottom line and an improved user experience are factors to consider, but many admins are also interested in new tools and features -- and with good reason. Certainly a new version of Exchange should include an improved administrator experience, right?

Download this free guide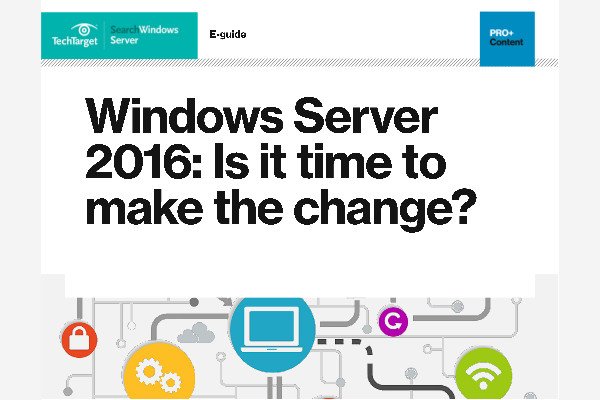 Download: Buyer's Guide to Windows Server 2016 in 2018
You may be due for an upgrade! Check out our full Windows Server 2016 Buyer's Guide to see if a switch to the new server would be the best move for your organization.
Not only do the following tips highlight various new Exchange 2013 features that play integral parts in the platform's administration, but several also explain exactly how to put them into action to make the most of any new Exchange 2013 deployment.
An introduction to the Exchange Administration Center in Exchange 2013
Goodbye Exchange Management Console and Exchange Control Panel; hello Exchange Administration Center. Get a closer look at Exchange 2013's new management interface and see how it compares with -- and improves on -- management tools of previous iterations.
Step-by-step: Configuring Exchange 2013 site mailboxes
Exchange 2013 site mailboxes provide a way for teams to collaborate by combining top SharePoint 2013 and Exchange 2013 features, but several steps are necessary to set them up. Get the instructions you'll need to roll this helpful new feature out to users.
An inside look at Exchange 2013 data loss prevention policies
Exchange 2013 data loss prevention policies (DLPs) help protect against data leakage, but it's on you to determine which best suit your organization and subsequently configure them. This expert tip explains how DLPs how work and includes the information necessary to begin building the appropriate policies to protect your own deployment.
Highlighting new compliance and e-discovery features in Exchange 2013
Exchange 2010 contained some helpful compliance and e-discovery functionality, but it was more of a foundation for things to come. Find out how native compliance and e-discovery features have been improved in Exchange 2013, as well as how to effectively implement them.
Exchange 2013 anti-malware protection: An improvement, but is it enough?
Exchange 2013 anti-malware protection is a solid feature in the new platform. However, there are several factors to consider before doing away with previously relied-upon third-party products and making native capabilities your last line of defense.
Set up Office Web Apps Server for use with Exchange 2013
While technically not a new Exchange 2013 feature, a properly configured Office Web Apps Server is necessary for Exchange 2013 users to preview Office docs in Outlook Web App. In this expert tip, you'll get a great overview as to why you need it, as well as the steps necessary to set it up.
Do you have a new or exciting Exchange 2013 feature you'd like to see us cover? Email us with your requests. Also, don't forget to follow us on Twitter @ExchangeTT.