Starting a clean install of Microsoft Windows Vista
Learn why a clean install of the OS is preferred for installing Vista, and review the starting process for a Microsoft Windows Vista clean install.
In this selection from Windows Vista Secrets, authors Brian Livingston and Paul Thurrott explain why a clean install of the OS is preferred for installing Microsoft Windows Vista. The authors also review the processes to begin setup for a Microsoft Windows Vista clean install.
---
A clean install of the operating system is our preferred method for installing Windows Vista. Although it's possible to upgrade to Windows Vista from certain previous Windows versions this path is perilous and can often result in a Frankenstein-like system where only some of your applications work properly. In our opinion, it's best to start with a clean slate when moving to a new operating system, especially a major release like Windows Vista.
Step-by-Step: Windows Vista Interactive Setup
We're going to walk you through the entire Windows Vista Setup process, using Microsoft's interactive Setup application. This application was completely overhauled for Windows Vista, and it's much more streamlined, simplified, and faster-moving than the version used in Windows XP.
Follows these steps to install Windows Vista as a clean install:
Insert the Windows Vista DVD in your PC's optical drive and reboot. After the BIOS screen flashes by, you may see a message alerting you to Press any key to boot from the CD or DVD. If so, press a key. Some systems, however, do not provide this warning and will instead boot from the DVD by default.
Secret: If your system does not boot from the DVD, you may need to change the system's boot order so that the optical drive is checked before the first hard drive. To do this, you will have to consult your PC's documentation, as each PC handles this process a little differently.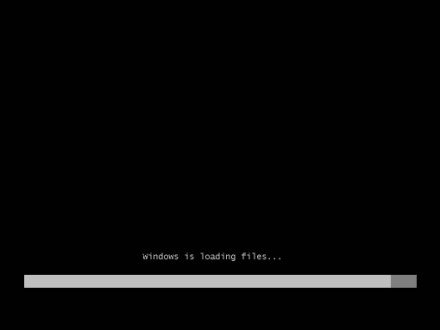 From inauspicious beginnings such as these come great things.
A black screen with a progress bar and the text "Windows is loading files" will appear as shown above.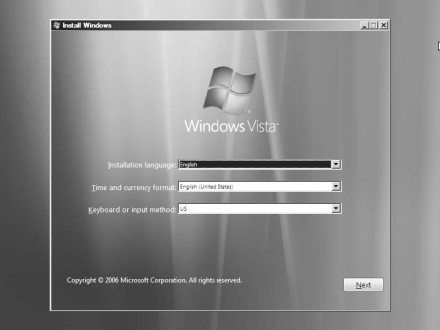 These settings apply only to Setup, not the eventual Windows Vista installation.
Eventually, the screen will display a multicolored drape effect and the initial Setup window appears as shown above. Here, you can preconfigure the language, time and currency formats, and keyboard or input method you'll use during Setup.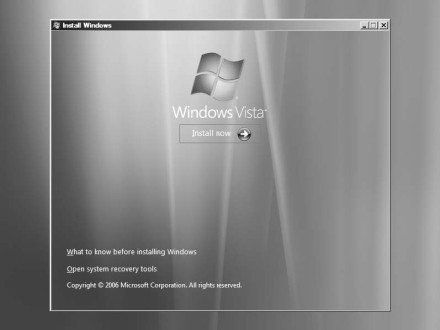 This window jumpstarts Setup and the Windows Vista recovery tools.
Click Next. The Install Now window appears as shown in the above screen shot. To continue with Interactive Setup, click Install Now.
Secret:
This window also provides a way to access Windows Vista's new recovery tools. If you run into a problem with Windows Vista later, such as not being able to boot into Windows for some reason, you can boot your system with the Setup DVD and use these tools to help fix the problem.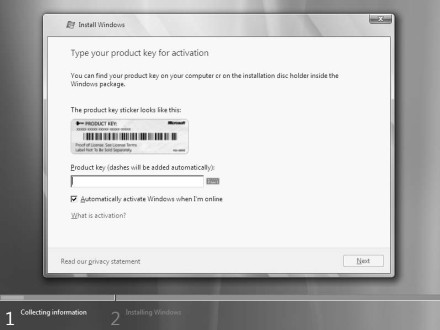 Spread 'em. This is where Microsoft ensures you're genuine.
In the next window, (shown above) enter your Windows Vista product key. This is a 25-digit alphanumeric string—in blocks of 5 separated by dashes—that you will find on a bright yellow product key sticker somewhere in your Windows Vista packaging. You can also optionally choose to have Windows Vista automatically activate for you.
Secret:
Do not lose this product key or give it away to anyone. Each Windows Vista product key is valid for exactly one PC. After you've installed Windows Vista and activated it—which ties the product key to your hardware—you won't be able to use this number again on another PC, at least not easily. Note, however, that you will have no problems reinstalling Windows Vista on the same PC using this same product key. If for some reason you are unable to electronically activate Windows later, Vista will provide a phone number so you can do it manually.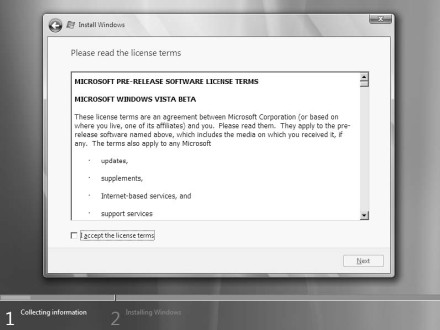 Sign over all your rights simply by clicking a single check box.
In the next window, you must agree to the End User License Agreement (EULA). Although very few people actually read this document, you should take the timeas it outlines your legal rights with regards to your usage of Windows Vista. Our understanding of the legalese in this document is that Microsoft exerts certain rights over your first-born and soul. In the screen shot above you can see the EULA windows.


How to perform a clean install of Microsoft Windows Vista



Introduction


Starting a clean install of Microsoft Windows Vista


Continuing with a clean install of Microsoft Windows Vista


Completing a clean install of Microsoft Windows Vista
Dig Deeper on Windows systems and network management