The Windows Server toolbox: A utility guide for admins
Glimpse inside the Windows Server toolbox and find the best server utilities for everything from performance and monitoring to security and troubleshooting.
With so many Windows Server tools out there, it can be difficult for admins to decipher which ones are the most...
Continue Reading This Article
Enjoy this article as well as all of our content, including E-Guides, news, tips and more.
promising. The Windows Server toolbox narrows the scope by offering an inside look at some of the best admin tools available, including a slew of free server monitoring, management and backup utilities for Windows Server 2003, 2008 and R2.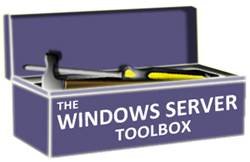 THE TOOLS
Web application
Performance and monitoring
Security
Troubleshooting
Active Directory
Windows file management
Storage and memory
Have a great Windows Server tool that's not listed here? Email us with your suggestions.
WEB APPLICATION TOOLS
PHP Manager for IIS -- A Codeplex add-on that provides streamlined management of the PHP stack for IIS 7 and 7.5
WebMatrix -- Microsoft's Web development tool designed for the creation, customization and deployment of Windows sites from a single platform
Isapi Rewrite Filter -- Ionic's free URL rewriter tool for Internet Information Services 6 and up that also works with PHP and SharePoint
IISLogs 2.0 -- A utility from Microsoft MVP Steve Schofield designed to solve IIS log file issues through customizable file management capabilities
WAMPStack -- A comprehensive utility from BitNami that simplifies Apache, MySQL and PHP deployment for Windows Server

PERFORMANCE AND MONITORING TOOLS
Performance Monitor (PerfMon) -- Grants access to performance counters for Windows Server 2008 and R2 objects such as Memory, LogicalDisk and NetworkInterface
Xperf -- This Windows Performance Analysis tool gives admins a graphical representation of performance data for detailed analysis
Performance Analysis of Logs (PAL) -- A scripting tool joint-developed by Microsoft and the open source community that works with Perfmon data to analyze server bottleneck issues
Windows Cache Extension for PHP -- A free open source PHP add-on that speeds up applications running on Windows Server
CyberGauge -- A network bandwidth monitoring tool from SolarWindows Inc. that produces daily, weekly or monthly usage reports
API Monitor -- Software designed by Rohitab Batra to track API calls and produce detailed reports on application functions
Event Tracing for Windows (ETW) -- Native Windows Server utility with logging and tracing capabilities to give admins an inside look at Windows event logs
WinObj -- Sysinternals utility that securely tracks system resources on the Object Manager namespace
HWiNFO -- Hardware information and diagnostic tool from Martin Malík that compiles and generates detailed computer hardware information
More free tools from Sysinternals
Technical gurus Mark Russinovich and Bryce Cogswell developed the Sysinternals utility lineup in 1996 to help admins troubleshoot a variety of Windows system problems. Administrators can find additional free tools for Windows performance and monitoring tasks at the Microsoft Sysinternals website.
WSUS Offline Update -- This WSUS application from Torsten Wittrock automatically refreshes Windows operating systems with essential updates
TrueCrypt -- A free open source disk encryption utility similar to BitLocker that lets admins encrypt volumes, disks and boot drives
Attack Surface Analyzer -- Microsoft security tool that scans the Windows attack surface for vulnerabilities caused by third-party applications
More Windows security tools -- A breakdown of the best free Windows security tools around, covering everything from data protection to malware
Autoruns for Windows -- Sysinternals tool that creates and stores a detailed record of every component loaded onto a system automatically and debugs problem software
BlueScreenView -- Helps resolve blue screen of death (BSOD) crashes by gathering and displaying information related to the cause of the crash
Cluster Diagnostics (ClusDiag) -- Free Microsoft tool designed to analyze and troubleshoot Windows Server cluster issues
More Windows troubleshooting tools -- Find details on how tools like ProcDump, ADPlus and DebugDiag can help admins troubleshoot application hangs and crashes
Repadmin -- Command-line tool for troubleshooting Active Directory replication issues, such as fixing lingering objects
Event Viewer -- Logs noteworthy events in Active Directory and reports on who made significant changes to objects and attributes
Adprep -- Required utility for the initiation of a Windows Server 2008 or R2 domain controller
Local Security Authority Subsystem (LSASS) -- Active Directory utility that manages user request authentication from domain logons and applications
More free tools from joeware.net
Admins can find additional free command-line tools for Active Directory management at Joeware.net, a great source for AD adminstrators.
NTFSLinksView -- Presents a simplified view of symbolic links and junction points from the NTFS file system, as well as their target paths
Link Shell Extension (LSE) -- Using a copy/paste option, admins can create hard link extensions that display in the Windows Explorer context menu
BulkFileChanger -- Lets admins change a set of file attributes in bulk, including timestamp features
Icacls -- An all-in-one file management tool that includes automated file permission functionality
NTFS-3G -- This free interoperability tool from Tuxera provides NTFS read and write capabilities on non-Windows operating systems, such as Mac OS X

STORAGE AND MEMORY MANAGEMENT TOOLS
Storage Explorer -- Displays a tree view of SAN elements, including fabrics, platforms, storage devices and LUNs
Windows Server Backup -- An updated version of NTBackup equipped with backup, recovery, restoration and space management capabilities
RAMMap -- Sysinternals utility that breaks down Windows system memory usage and analyzes the allocation of system RAM
For more information on Windows Server tools visit SearchWindowsServer.com.
Dig Deeper on Windows administration tools