Manage
Learn to apply best practices and optimize your operations.
The Windows manager's guide to iSCSI SANs
This eBook goes over the benefits of using iSCSI SAN technology with Windows file servers, SQL Server and Exchange Server 2007.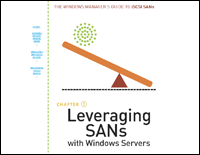 A popular SAN protocol, iSCSI allows clients to send SCSI commands to storage devices on remote servers. This eBook explains the different ways iSCSI technology can benefit your Windows environment. Inside you'll learn the advantages iSCSI storage area networks have over DAS in a Windows server environment, as well as how attaching SQL Server to a SAN with iSCSI can reduce set-up costs. You'll also find information on why iSCSI SANs are gaining popularity as the storage method of choice for many companies working with Exchange Server 2007.
Chapter 1 - Leveraging SANs in Windows Servers
An iSCSI storage area network (SAN) offers several advantages over direct-attached storage (DAS) in a Windows server environment. In this chapter, get the information every Windows manager needs to gain the most out of an iSCSI storage platform.
Read this chapter
ABOUT THE AUTHORS

Laura E. Hunter, CISSP, MCSE: Security, MCDBA, Microsoft MVP, is employed as an Active Directory architect. She is a five-time recipient of the prestigious Microsoft "Most Valuable Professional" award in the area of Directory Services. She is the author of Active Directory Field Guide, published by Apress.com,
and Active Directory Cookbook, Second Edition published by O'Reilly.
Brien M. Posey, MCSE, has received Microsoft's Most Valuable Professional Award four times for his work with Windows Server, IIS and Exchange Server. He has served as CIO for a nationwide chain of hospitals and healthcare facilities, and was once a network administrator for Fort Knox. You can visit his personal Web site at www.brienposey.com.
Chapter 2 - Gearing up for SANs on a SQL Server
One main benefit to using iSCSI to attach your SQL Server to a SAN is that it reduces SAN infrastructure set-up costs. There also are no additional fibre network costs to consider when configuring your solution, which means that there are no delicate fibre cables to handle.
In this chapter learn about gearing up for SANs on a SQL Server and how this solution can facilitate environment scalability.
Read this chapter
ABOUT THE AUTHOR

Denny Cherry has more than a decade of experience managing SQL Server, including MySpace.com's more than 175-million-user installation, one of the largest in the world. Denny's areas of expertise include system architecture, performance tuning, replication and troubleshooting. He uses these skills in his role as a senior database administrator and architect at Awareness Technologies.
Chapter 3 - Reducing Exchange Server complexity with SANs
Selecting the proper storage solution in an Exchange Server 2007 environment requires careful consideration. Because they're more cost-efficient and scalable than direct-attached storage, iSCSI SANs are gaining popularity as the storage method of choice for many companies. This exclusive ebook chapter covers iSCSI SAN topics such as disk capacity, Exchange Server backups, high availability and disaster recovery.
Read this chapter
ABOUT THE AUTHOR

Mark Arnold, MCSE+M, Microsoft MVP, is principal consultant with LMA Consulting LLC, a private messaging and storage consultancy based in Philadelphia. Mark assists customers in designs of SAN-based Exchange implementations. He has been a Microsoft MVP in the Exchange discipline since 2001, contributes to various Microsoft-focused technology websites and can be found in the Exchange newsgroups and other forums.
Dig Deeper on Windows Server storage management