Manage
Learn to apply best practices and optimize your operations.
Top Windows Server tips of 2011
Find our most popular tips this year, including great free tools, understanding Azure services and the BYOD initiative.
On the surface, 2011 was a "bridge year" of sorts for Windows admins – Windows Server 2008 R2 reached maturity (if not majority adoption), and Windows Server 8, partly unveiled in September, won't be available until sometime in 2012. There was still plenty of information to explore, though; the year's top tips cover everything from performance monitoring tools to Active Directory troubleshooting to PowerShell administration. Read on to relive the year, one tip (and Tweet) at a time.

Download this free guide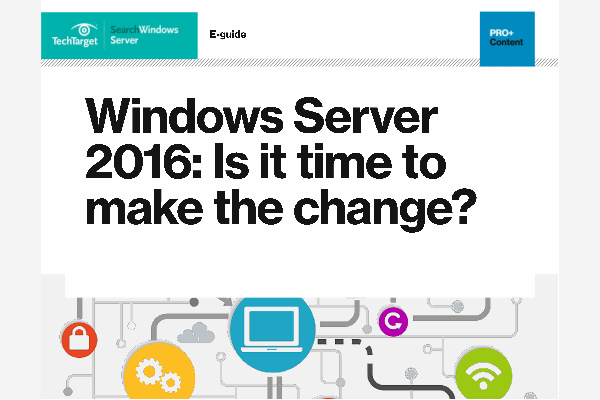 Download: Buyer's Guide to Windows Server 2016 in 2017
You may be due for an upgrade! Check out our full Windows Server 2016 Buyer's Guide to see if a switch to the new server would be the best move for your organization.
By submitting your personal information, you agree that TechTarget and its partners may contact you regarding relevant content, products and special offers.
You also agree that your personal information may be transferred and processed in the United States, and that you have read and agree to the Terms of Use and the Privacy Policy.
January: Top three Windows Server crashes – and how to avoid them
Server crashes have a lot in common with car crashes. They both involve drivers, can slow traffic considerably, and they both can be avoided with a little extra care. Bruce Mackenzie-Low uses his experience with close to 1,000 crashes over the last decade to show you how to stay safe.
Top 3 #Windows server crashes: http://ow.ly/3CCn4 ... all boils down to drivers.

— sikosis (@sikosis) January 13, 2011
February: What admins need to know about Windows Azure services
Even back in February, Microsoft was "all in" with cloud computing. While developers may know exactly what that means for them, the issue's been a little murkier for administrators. Here, Jonathan Hassell takes a big-picture view of the platform and offers advice on how it will change things (if at all).
March: Microsoft Xperf tutorial: New ways to monitor Windows performance
Who says you need third-party tools to take control of your Windows servers? Not Bruce Mackenzie-Low, who walks readers through Microsoft's powerful monitoring utility.
April: Always-on VPN extends remote management for IT admins
There are plenty of use cases for remote access to internal networks and resources – but not everyone is sold on the approach. Greg Shields explores the pros and cons of always-on VPN, offering options for both small businesses and large enterprises.
May: Top ten free Windows tools admins have never heard of
Uh oh, Q2 isn't even over and you're already realizing your annual budget isn't going to cut it. No worries – this list of top free tools is here to ease the stress, at least for a month or two.
Top ten free Windows tools admins have never heard of http://bit.ly/kUoMv3

— §H!√A (@CyberSecurlTy) June1, 2011
June: How to size an Active Directory domain controller in Windows
Size matters – at least when it comes to DCs. But how big (or small) should you go? Gary Olsen has a system for determining the proper amount of processors, memory and disk space you'll need.
How to size an Active Directory domain controller in Windows... http://fb.me/N9qNjZPi

— Lionel Spearman II (@lspearmanii) June3, 2011
July: Scoping out the subtle differences between Hyper-V and VMware
Will there ever be a clear winner in the ongoing battle of the hypervisors? The debate got even more heated in 2011 thanks to advancements in Hyper-V and VMware's licensing snafus. Eric Beehler attempts to provide some answers for those shops still deliberating.
August: Not as crazy as it sounds: How to run Windows Server 2008 on a notebook
As it turns out, Windows admins are an experimental bunch. In this tip, self-confessed "tinkerer" Serdar Yegulalp explores the reasons why it might make sense to take advantage of end-user hardware for server deployments.
Not as crazy as it sounds: How to run Windows Server 2008 on a notebook bit.ly/qKa0lc

— Mark Nielsen (@manielse) September1, 2011
September: Four Server Core myths: Busted!
Scared of Server Core, Microsoft's GUI-less installation option for Windows Server 2008? Don Jones explains why you might have the wrong idea – and why now could be the time to take the plunge.
October: How (and why) Microsoft is killing the GUI on Windows Server
If you didn't take the hint last month, Don's back to remind you that the future is now. In Windows Server 8, it's all about command-line administration through PowerShell , so here's how to prepare.
How (and why) Microsoft is killing the GUI on Windows Server bit.ly/qHfscH

— Bill Bailey (@bbnetman) October 20, 2011
November: What to do when DNS records disappear
Even though Halloween has passed, it doesn't mean scary things can't happen. In this tip, Gary Olsen describes how to find and fix those lost zones in Active Directory.
December: Using and managing BYOD in a Windows Server 2008 environment
"Bring your own device" is something enterprises are learning to live with, but there are still some concerns when it comes to security. Bill Kleyman takes us through tips to manage it all through Windows Server 2008 R2. Also be sure to read part one of his series on BYOD.
Dig Deeper on Microsoft Windows Server 2008 R2 Administration