Evaluate
Weigh the pros and cons of technologies, products and projects you are considering.
Top iPhone apps for Windows admins: Admin Pocket Consultants
The Admin Pocket Consultants are a series of mobile mini-books that cover a variety of Microsoft topics, including several Windows platforms, Active Directory and SharePoint.
#7: Admin Pocket Consultants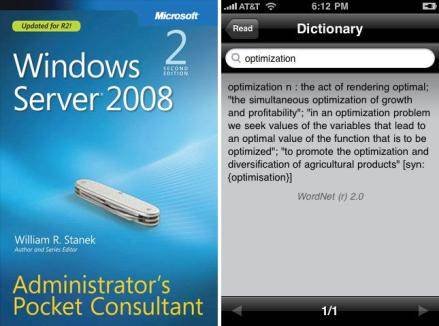 (Image credit: App Shopper)
While not a traditional app, admins looking for an on-the-go quick reference for a variety of Windows Server topics can check out the Windows Admin Pocket Consultant series from O'Reilly Media, Inc. These mobile IT reference guides are basically mini-books designed to help administrators manage and troubleshoot daily Windows tasks for specific platforms and programs.

Available topics: Windows Server 2003 and 2008 (R2), Windows 7, Windows XP Professional, Windows Vista, Internet Information Services (IIS) 6.0 and 7.0, Small Business Server 2008, Windows Server 2008 Server Core, PowerShell 2.0, SharePoint 2010, Active Directory, Group Policy, Command-Line, SQL Server 2005 and 2008, Exchange Server 2003, 2007 and 2010

Devices: iPhone, iPod Touch and iPad

Price: Varies from $2.99 to $3.99

Features: All apps include a search feature, dictionary, annotation capability and several views and fonts to choose from.

Reviewers give the Pocket Consultant apps 4 out of 5 star ratings in the iTunes App Store.
Dig Deeper on Windows Server troubleshooting